Unprecedented, but Not Unparalleled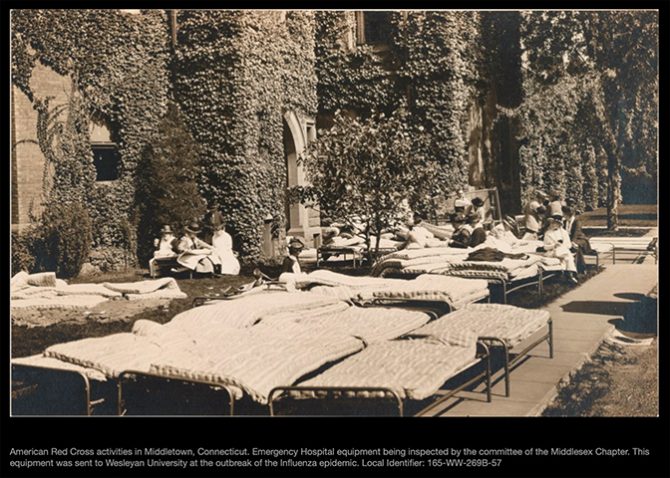 Photo caption: Red Cross volunteers inspect equipment for Wesleyan during the 1918 influenza pandemic. The location is the parish house behind Middletown's Church of the Holy Trinity on Main Street. Photo courtesy of the U.S. National Archives.
"In these unprecedented times…." It's almost a mantra these days, part of every conversation, every newscast.
Our times are indeed unprecedented. But they are not unparalleled. In its 189-year history, Wesleyan has weathered many storms, both local and global. Some seem eerily familiar. Take the year 1918, for example. In early spring, Wesleyan experienced an outbreak of typhus, which killed a student from China. In the fall of 1918, the influenza pandemic felled at least seven Wesleyan students. Classes were cancelled indefinitely, as were most athletic competitions. Many students returned home. Middletown was also hard hit, with a death toll far higher than ever before or since: 193 people died in October, most of them from influenza or pneumonia, a common complication of the flu. The hospital was running low on canned goods to feed patients. The community stepped in to help: People donated their home-canned goods and were promised that if the jars were well-labeled with names and addresses, the empties would eventually be returned. Makeshift health services on campus eventually led to the founding of the Davison Infirmary, now known as the Davison Health Center.
And there was a war on. The flu spread quickly among soldiers in crowded conditions. Wesley Rich, Class of 1911, a young economics professor at Wesleyan, died of flu complications at Camp Devens near Boston. Rich became ill while training after being drafted to fight in the Great War (later known as World War I). At least 20 percent of the soldiers at the camp got the flu, and many hundreds died. Many Wesleyan men joined the war effort; some never came home.
Around 20 years later, the campus was upended by World War II. Many students enlisted or were drafted and fought with distinction; again, many did not return. Others took a difficult moral path, declaring conscientious objector status and joining various stateside work projects. Enrollment on campus plummeted from more than 700 students to barely 100, a number not seen since the 19th century. Wesleyan added military officer training to the curriculum for the war years, with Navy V-5 and V-12 programs drawing students from other institutions, as well as Wesleyan men. Faculty adapted to new teaching methods and subjects that were often drastically different than their specialties. English professor Fred Millett found himself lecturing on Morse code instead of Milton; classicist John Spaeth boned up on aeronautics. The trustees and administrators were deeply worried about Wesleyan's financial viability and modified investments accordingly. Campus construction plans were paused.
Fast forward a few decades. As many remember, the 1960s was a tumultuous decade for our country. Wesleyan's campus was no exception, as students, faculty, staff, and alumni took part in civil rights demonstrations to end racial injustice. Protests against the war in Vietnam, military recruitment, nuclear power, and other contemporary issues consumed the student body. In February 1969, Black students occupied Fisk Hall as a response, in part, to the assassination of Malcolm X. Commencement ceremonies in 1968 and 1970 were radically changed due to the war in Vietnam and the Student Strike following the massacre of protesters at Kent State by the Ohio National Guard. In 1968, an alternative commencement was held by students and faculty to honor those who pledged not to serve in the war. The 1970 ceremonies focused on the strike, and many students refused to wear caps and gowns, donating the cost to the strike fund instead.
Out of all these challenging periods, and several more, Wesleyan emerged bruised but unbowed. Changes followed, some incremental, some highly significant. Better days always lay ahead. —SUZY TARABA '77, MALS '10, Director of Special Collections & Archives