A Really Good Conversationalist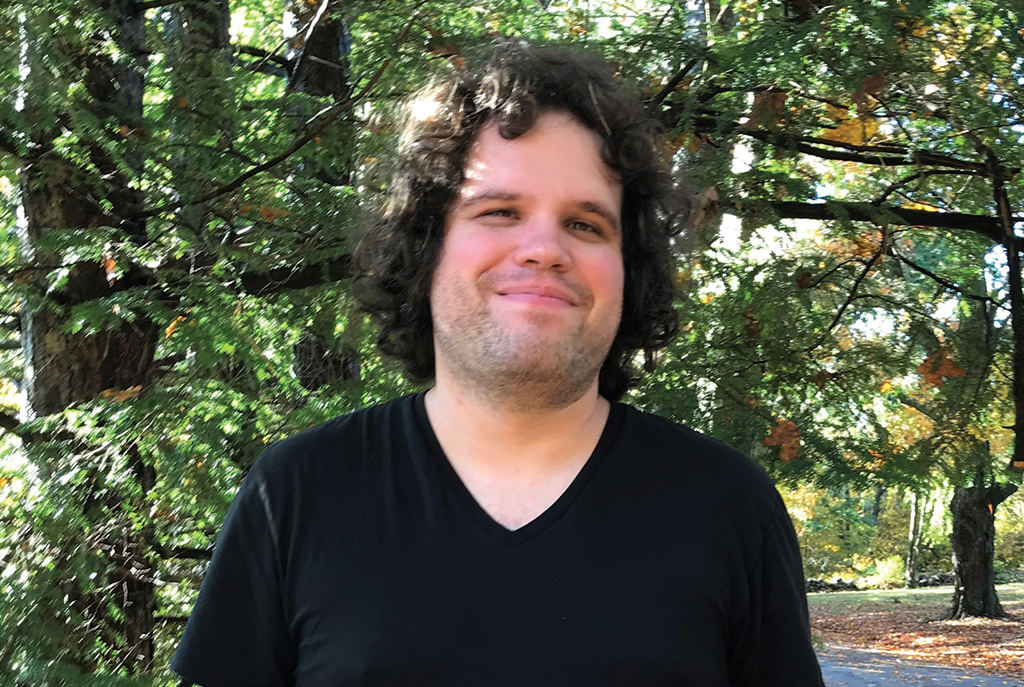 Jared Gimbel '11 uses his knowledge of 16 languages to make connections across multiple corners and cultures of the world.
After attending a polyglot gathering in Bratislava, Slovakia, Jared Gimbel '11—who is conversationally fluent in 16 languages—signed up for a 90-day challenge. The challenge called for him to record himself speaking one new language at monthly intervals (day 0, day 30, day 60, and day 90). Gimbel chose Greenlandic, which is an Eskimo-Aleut language.
After filming himself, he posted one of the videos online. A Greenlandic friend of his asked him to make it public.
"I woke up the next morning with 100 friend requests from Greenlandic people," says Gimbel. "My video had been shared dozens of times. My friend said, 'I have never seen this happen before. People are asking to crowdfund a trip to Greenland for you. [They're] so unbelievably amazed.'"
Although Gimbel didn't expect to go viral the way he did, he explains that the enthusiastic reception of his video is reflective of a larger culture surrounding language learning. It's not just about memorizing conjugations and flipping through flashcards. It's about deeply committing to another culture's philosophy, its art, its music, its literature, and its people. With each new language, he feels like a valued member of a community.
"If I speak to a Hungarian at a bar," Gimbel explains, "I always get invited somewhere afterward."
Gimbel is a hyperpolyglot—someone who is fluent in six or more languages. He's also a video game designer, a part-time synagogue cantor, and a language teacher. He is the founder of Kaverini Korp, a series of tabletop and mobile role-playing video games. As if these credentials weren't impressive enough, he also plays the piano and has perfect pitch, which are skills that he uses to learn and play music from all around the world.
His 16 languages include Ancient Hebrew, Norwegian, Cook Islands Maori, Danish, Finnish, German, Greenlandic, Hawaiian, Hebrew, Hungarian, Icelandic, Niuean, Polish, Spanish, Swedish, and Yiddish. He is particularly interested in investigating "endangered" languages, or languages that are in danger of disappearing due to low numbers of living native speakers, as well as his heritage languages of Swedish and Yiddish. This broad scope of languages enables him to make connections across multiple cultures and corners of the world, both by traveling and talking to people through the internet.
At Wesleyan, Gimbel was a College of Letters and classical studies double major with a minor in Jewish and Israel studies. Attending Wesleyan was a crucial step in Gimbel's journey to the world of language learning.
"[At Wesleyan], you are really encouraged to go against the stream," he says. "People are encouraged to be non-conformist. And to be a leader is to rebel."
He cites Wesleyan as a place that fosters in its students a deep desire to go against the grain, and therefore become leaders in their post-Wesleyan lives and careers. It's "how revelations are made, how new worlds are made, and how new streams are made," he says.
Gimbel has also encouraged aspiring language learners and given them the necessary resources to fulfill their ambitions. He has come across several people with a desire to learn a language, but who have no idea where to find the means to study it, particularly if it is an endangered language or a language from the developing world.
"I've caused people to investigate their heritage languages more in depth," he explains. "I've got several people telling me that I was the reason why they began [learning] certain [languages], and that's been very heartwarming for me."
Even with his expansive and impressive repertoire, Gimbel acknowledges that self-doubt is unavoidable. He tries his best to normalize imperfection in his language learning. He quotes the Jewish text Pirkei Avot, which says, "You are not expected to finish the job, but you are not free to quit," and adds that, "no matter how much you learn of a language, you're not going to get it completely. Every single polyglot [knows] this, whether it be the Uber driver from Pakistan who is fluent in seven languages and can take directions in all of them, or the professor polyglot."
Another challenge he encounters in his language learning is the pressure to perform; he finds he is often expected to play the interpreter, which can be overwhelming. But ultimately, learning languages has enabled Gimbel to access humanity in a way he otherwise couldn't. That was one takeaway from a trip he took to Myanmar/Burma, right before the Rohingya genocide broke out in August 2017.
"Languages—particularly the ones from the developing world—have taught me how to be human again," Gimbel says. "Often, modernity really causes us to spin the compass. In a sense, I somehow feel that ancient wisdom, be it from anywhere in the world, [feels] like a new compass."
— Annie Roach '22
Annie Roach is a member of the Class of 2022. She majors in English and Italian studies, competes on the varsity squash team, and writes for the Wesleyan Argus. Around campus, she can be found either in Olin Library or at different dining locations collecting desserts.
Photo courtesy of Jared Gimbel.