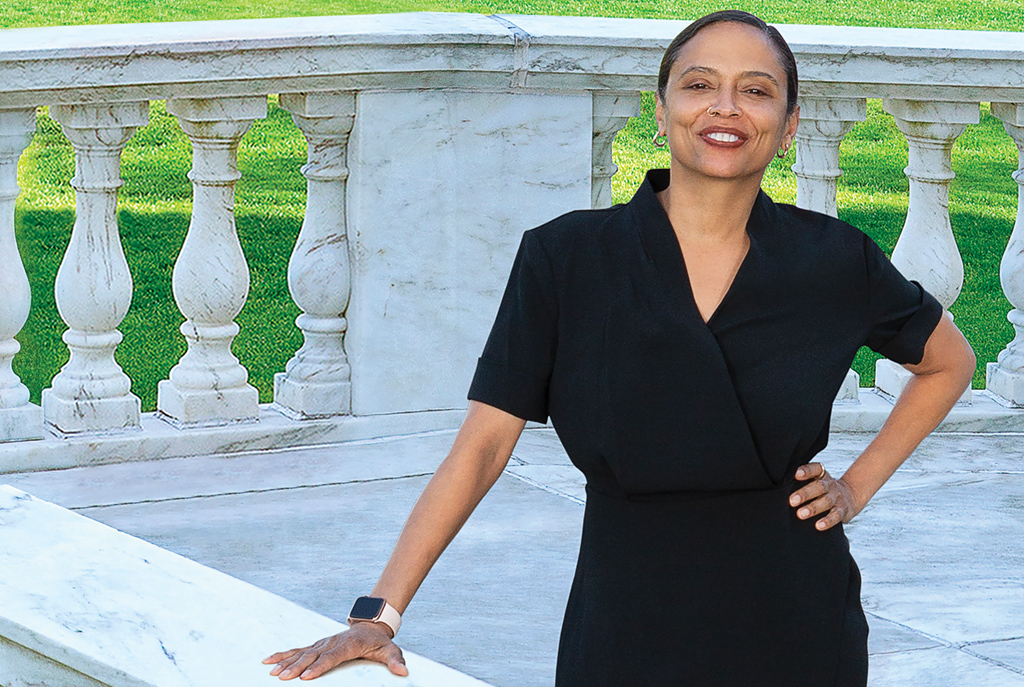 As Wesleyan's provost and senior vice president for academic affairs, Nicole Stanton carries creativity from the dance studio and her distinguished career in the arts into her new role on the president's Cabinet.
Nicole Stanton was a young "artist looking for an art form," as she puts it, when she arrived at Antioch College in Yellow Springs, Ohio, in the fall of 1987. Known for its alternative approach to education, Antioch was a place Stanton found "extraordinary." She was a first-generation, low-income college student from Pittsburgh, excited to be in a liberal arts environment but "not having any idea what I wanted to do there."
Her first semester, Stanton was assigned a physicist as her advisor.
"We had general education requirements, so he said, 'Well, you like the arts and you have to take a phys ed class. Why don't you try dance?'" Stanton recalls with one of her graceful, wide smiles. "And so I did."
Without a traditional dance background, Stanton was surprised to find a passion and talent for it, and focused on modern/contemporary and West African styles. A professor introduced her to the idea of "the moving body as a critical point of inquiry: It was always political, it was always social," Stanton says. "That appealed to me."
After Antioch, Stanton spent several years in Minneapolis, Minnesota, working at In the Heart of the Beast Theater, and as an independent choreographer, performer, and costumer. A new chapter then unfolded at The Ohio State University, where she spent 13 years in the school's acclaimed Department of Dance, earning her MFA and, later, tenure on the faculty.
Confronting the Moment
She joined Wesleyan as an associate professor in 2007, teaching in the dance, African American studies, and environmental studies departments, and served as dean of the arts and humanities from 2018 to 2019. Later that year, Stanton was announced as Wesleyan's new provost and senior vice president for academic affairs, after a rigorous national search process. The chance to "embrace innovation in this open, inclusive, transparent, and collaborative context," as well as serving the community and working together toward a greater good, drove her interest in the role, she says. Stanton was "the right choice at the right time for Wesleyan," according to President Michael S. Roth '78, in an announcement about her promotion. He cited her "inclusive leadership style and focus on shared governance."
She started on May 15, 2020—just as the spring semester ended, and while students, faculty, staff, and the rest of the Wesleyan community were still reeling from the disruption of the COVID-19 pandemic. (It was also mere days before the University's first virtual Reunion & Commencement, and the newest wave of civil unrest and political turmoil prompted by the death of Black American George Floyd at the hands of a white police officer in Minneapolis.)
Though undeniably challenging, the situation presented a silver lining: Stanton and her colleagues in the president's Cabinet were afforded a unique opportunity to work with representatives from every area of the University to completely reimagine the Wesleyan experience in light of the pandemic's challenges. The time period served as a kind of crash course in Wesleyan's operations that Stanton might otherwise not have gotten. "It would have taken me years to know as much as I do now about facilities, for instance," she says.
Artistic Advantage
The uphill path to provost does not often wind through the dance studio. In fact, it's fair to wonder if it's ever happened before. In a Zoom interview, sitting in front of mercifully distraction-free white walls, Stanton hears this question and laughs. She nods. "I don't know if I'm the only person, but probably very close to it."
Yet, it makes particular sense for Wesleyan. Stanton's practiced poise on stage helps her under the varying pressures of chairing committees, evaluating faculty, and implementing strategic visions. Her ability to use movement and creativity to effectively communicate and inspire audiences is a perfect fit during a time of nationwide—even global—uncertainty.
"Part of my dance process is improvisation," Stanton says, "and I feel it gives me a very high tolerance for chaos and not knowing. It gives me a kind of comfort in being in that space of not knowing, of needing to allow things to unfold, and having to negotiate the moment in a unique way."
Then there's choreography, one of Stanton's favorite subjects to teach. That's all about "organizing people in space and time, and doing so toward some kind of goal or end," a direct parallel to leading a university that aims to welcome and celebrate varied perspectives. In either role, "you're working with different disciplines, speaking to different kinds of communities, and thinking about your audience and their experiences."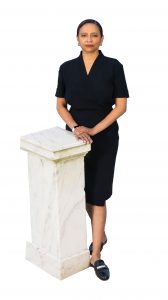 There are other advantageous traits that Stanton brings to the role. Professor of Music Jay Hoggard points out that, as a choreographer and dancer, Stanton is "meticulous in her attention to detail." The pair have worked together for years on various iterations of a dance/musical project called "Storied Places," which explores their families' migrations from the South to the North. Having long admired Stanton's ability to remember complex choreography, Hoggard says he was still impressed over the summer when she tactfully led large faculty meetings over Zoom. "Someone would ask a very subjective question, and she could answer it with precise facts."
Many artists might seem like fish out of water in administrative contexts, Hoggard says. But "there is no sense of that at all for her; she seems totally comfortable."
Connected, Committed
Off campus, you're just as likely to find Stanton relaxing with a good book or her three dogs, Louis (named after Louis Armstrong), Harriet, and Ruby, as you are to spot her cooking or working out (she enjoys yoga, weightlifting, and boxing). She is also an avid organic gardener, a pastime that rewards diligence and patience.
"Working in the garden nourishes my soul in many ways," she says. "It connects you to nature; it connects you to life processes."
That appreciation of the interconnected mirrors her approach to leadership. One of her early mentors, the late Vera "Vickie" Blaine, a nationally recognized teacher, choreographer, and chair of the OSU dance department, modeled a collegial form of governance that Stanton has tried to emulate. "She was not afraid to listen to anybody. She would listen as closely to a first-year undergraduate student as to the president of the institution," Stanton says.
Another mentor, Karen Bell, was the first person from OSU's dance department to become dean of the College of the Arts. "She was like the pace car for me in many ways," embodying not only coalition-building but also "the human element, bringing one's whole self to the role," Stanton says.
Leading effectively—regardless of the moment—has always been for Stanton about taking a wide, synergistic view and drawing on connections with others. It's also about honest, transparent communication.
"Not every decision is going to be what folks want. But if you can help them see, 'these are our choices, this is what we have to work with, and this is how we made this decision,' then they can at least understand how you got there," Stanton says.
As she settles into her position, she's been relishing the chance to engage with students and faculty from across the University. Fundamentally, the job of provost is about community organizing, Stanton believes. And right now, in an important moment of reckoning about race in the United States and around the world, organizing is—and must be—focused on equity at Wesleyan.
"How do we make changes that need to happen?" she asks. "How do we become a place where this is what we're known for, where faculty want to come because they know this is a space that's not just welcoming but home to diverse voices, peoples, and perspectives? How do we become a place where students come because we're known for our rigorous, leading-edge work with equity?
"We've got work to do, but there is great will to do it."
Photos by Robert Adam Mayer