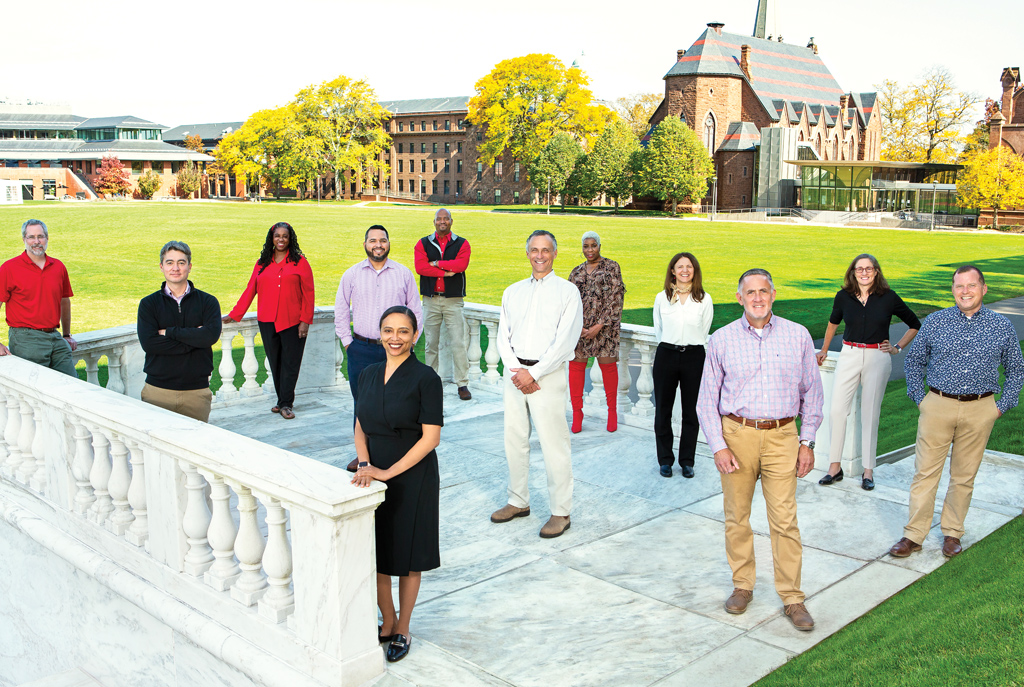 Wesleyan President Michael Roth '78 (center) and his Cabinet (left to right): David Baird, Andrew Tanaka '00, Alison Williams '81, Amin Abdul-Malik Gonzalez '96, Nicole Stanton (front), Frantz Williams Jr. '99, President Roth, Renell Wynn, Andrea Patalano, David Winakor, Anne Martin, and Michael Whaley. Photo by Robert Adam Mayer.
Wesleyan's open curriculum enables the free exchange of ideas across disciplines, leading to exciting discoveries on and off campus. President Michael Roth chooses the members of his Cabinet with that same spirit of collaborative, interdisciplinary thinking in mind.
"President Roth is focused on access and impact," says Andrew Tanaka '00, senior vice president, chief administrative officer and treasurer, and President Roth's former chief of staff. "There is one Cabinet and no divisions."
This synergistic approach is optimal in the best of times. In difficult times, it is indispensable. The COVID-19 pandemic has presented one daunting problem after another—how to transition to remote learning in a matter of days; how to hold large communal events like Reunion & Commencement in a time of social distancing; how to safely return students, faculty, and staff to campus. Solutions have required the careful marshaling and organization of a complex web of ideas and resources from across the University's ecosystem, coupled with rapid implementation timelines. In a fortuitous way, many of the problems the pandemic has posed to Wesleyan are the kind of challenges Cabinet was designed to solve.
"It goes without saying that 2020 was a tough year," says Vice President for Communications Renell Wynn, who joined the University in 2019. "But I do believe that challenging times present some of the best opportunities for learning and growth. Those are fundamental parts of a Wesleyan education, and it's been inspiring to see them on full display and to consider how well they position us for what's ahead."
With backgrounds ranging from private equity, business, and psychology to dance, geophysics, and chemistry (and decades of higher education experience between them), Wesleyan's Cabinet members have no dearth of expertise on which to draw. But it is the combination and cross-pollination of their expertise that has most enabled the group's success.
"I'm fortunate to work with such a committed group of people," says Alison Williams '81, vice president for equity and inclusion/Title IX officer. "We come from a wide range of backgrounds, but we respect and value each other. The Cabinet is a true team, united in our desire to keep Wesleyan moving forward."
"Working with my colleagues in Cabinet has been one of the highlights of these tumultuous past months," says Provost and Senior Vice President Nicole Stanton, who transitioned into her leadership role last spring just as the pandemic was beginning. "President Roth's example of extraordinary dedication, coupled with good humor, has created a strong sense of teamwork and collaboration. It's also worth noting how diverse the group is—there is a strong and, I think, unique representation of experience and people of color in these leadership roles."
"We have a mix of tenures in Cabinet. Some of us were students at Wesleyan. Some of us have worked in a variety of roles here, or left and returned. And some of us are brand new," says Vice President for Advancement Frantz Williams Jr. '99. "That blend of experiences affords us incredible insight, and is something we leverage all the time. It allows us to see clearly where we've been, where we are, and where we want to be."