Recommended Reading: Books by Jacobsen, Dietrich '06, and Others
Joyce P. Jacobsen
Advanced Introduction to Feminist Economics (Elgar, 2020)
Joyce P. Jacobsen, Andrews Professor of Economics and former provost and senior vice president for academic affairs at Wesleyan, and currently the president of Hobart and William Smith Colleges, explores an emerging and important academic discipline in her new book Advanced Introduction to Feminist Economics. This wide-ranging introductory text provides a comprehensive look at what constitutes feminist economics, and the factors that differentiate it from other approaches. Topics covered include the conflict over terminology, pedagogy, and content in economics; the role of caring labor in the economy; differential effects of international trade and finance by gender; and feminist approaches to public finance and social welfare.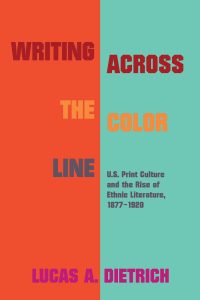 Lucas A. Dietrich '06
Writing Across the Color Line: U.S. Print Culture and the Rise of Ethnic Literature, 1877–1920 (University of Massachusetts Press, 2020)
The decades surrounding the turn of the 20th century saw writers of color successfully break into U.S. commercial trade publication, opening new possibilities for American artistic production and literary culture. In Writing Across the Color Line, Lucas A. Dietrich explores how authors from a range of ethnic backgrounds achieved recognition through a predominantly white publishing industry, even if it required them to employ such techniques as manipulating stereotypes and adapting literary regionalism and dialects. Mining extensive archival materials, Dietrich shines a new light on the work of authors such as María Amparo Ruiz de Burton, Charles W. Chesnutt, Finely Peter Dunne, W. E. B. Du Bois, and Sui Sin Far.
Dan Greenberger '81
The Boys Next Door (Appian Way Press, 2020)
A self-proclaimed "diehard Beatles fan," film and television writer Dan Greenberger explores a whimsical "what if" in this fast-paced novel. The book's protagonist is Alan, a college student studying abroad in Hamburg, Germany in 1960, who winds up renting a room next door to the soon-to-be-famous rock 'n' roll band from Liverpool. The story of their friendship (and Alan's longing for their mutual friend, Astrid) unfolds through Alan's breezy journal entries and correspondence, blending details based in history with fictitious—and often raucous—encounters and characters.
Paul Dickson '61, P'95
The Rise of the G.I. Army, 1940–1941: The Forgotten Story of How America Forged a Powerful Army Before Pearl Harbor (Atlantic Monthly Press, 2020)
Accounts of American involvement in World War II often focus on the details of engagement in the war itself. Paul Dickson hones in on the years immediately prior, which saw the rapid transformation of the military from a force of fewer than 200,000 troops and soldiers (ranked 17th in the world) in 1939 to a well-trained army 10 times that size within about 18 months. The Rise of the G.I. Army examines the critical period before the United States entered the war, with a close look at such commonly forgotten measures as the establishment of the first-ever peacetime military draft and the massive mock battles in Tennessee, Louisiana, and the Carolinas that allowed the forces to develop their skill—and through which many of the war's key leaders, including Eisenhower, Patton, Stilwell, and Bradley, emerged.
Jennifer Clark '95
Uneven Innovation: The Work of Smart Cities (Columbia University Press, 2020)
The concept of the smart city—which integrates information and communication technologies into the provision and management of public services—has been touted for its potential to enhance opportunity and bolster civic engagement. Yet for all its potential, this so-called "city of the future" can also exacerbate existing inequalities and even produce new ones. In Uneven Innovation, Jennifer Clark provides a critical analysis of the current debates surrounding smart cities, and offers insights and policy prescriptions that could lead to more equitable communities.
Paul Tractenberg '60, P'83, Allison Roda, Ryan Coughlan, and Deirdre Dougherty
Making School Integration Work: Lessons from Morris (Teachers College Press, 2020)
Although school segregation was officially abolished in 1954 with Brown v. Board of Education, it remains a pervasive issue in the American school system. The authors of Making School Integration Work: Lessons from Morris offer a solution by profiling Morris School District in New Jersey, which achieved successful integration by prioritizing the cultivation of a diverse, equitable school system. Based on extensive research, the book recounts the story of Morris's path toward integration, and delves deeply into current goals in education reform.
Nic Yeager '19 and Kelsey Roslin
111 Places in Austin That You Must Not Miss (Emons Verlag, 2020)
The city of Austin, Texas is chock-full of treasures, from its vibrant film scene to its beautiful outdoor scenery. In their detailed guidebook, Yeager and Roslin highlight every corner of the city, featuring 111 places across the city that visitors should be sure to check out. Complete with colorful photographs and a conversational writing style, the book will make any reader eager to pack up and visit Austin at their next opportunity.
David Hobson Myers '82
Sustainability in Business: A Financial Economics Analysis (Palgrave Macmillan, 2020)
In Sustainability in Business: A Financial Economics Analysis, David Hobson Myers provides an approach to sustainability through the lens of financial economics, suggesting that financial economics are a helpful framework in thinking about the future of sustainability and the choices that different businesses make. Touching on a wide variety of topics including how the COVID-19 pandemic has changed attitudes towards sustainability, Myers' guide aids readers in understanding an increasingly relevant topic in today's discourse.