Editor's Note: Pushing for Progress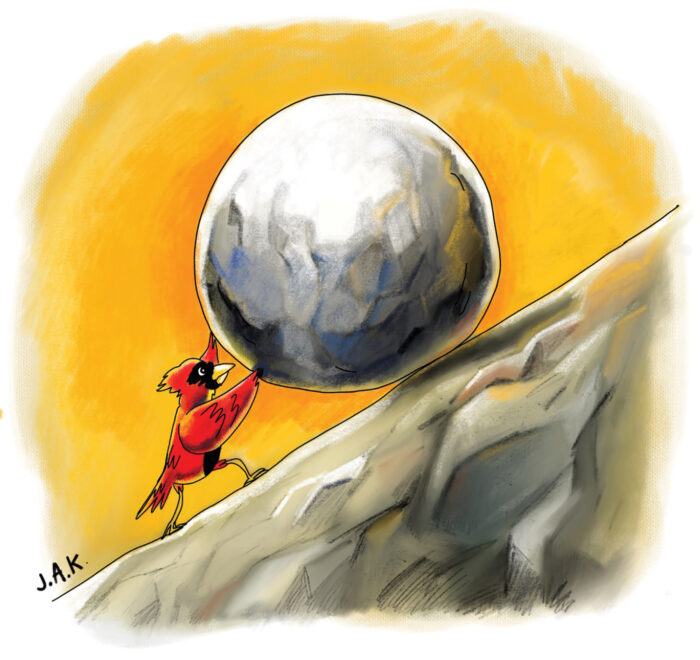 Cartoon by Jason Adam Katzenstein '13
It's springtime in Connecticut. A few days ago students enjoyed 70-degree weather and sunbathing on Foss; yesterday it snowed. These are the wonderful idiosyncrasies of living in New England and part of what keeps us always on our toes, a corner of our minds looking out for whatever might come next. Last year around this time we were struggling to understand a frightening and fast-spreading new virus and wrestling with issues of how our culture treats Black and brown people. This year, we are lining up to receive vaccinations created in record time and launching a campus-wide initiative toward understanding and addressing our own history of racial bias.
While there is still a long way to go, the magazine team is heartened by and grateful for all of the Wesleyans who are out there not only taking stock of where we are and where we need to be, but also actively working on solutions. In the absence of easy fixes, those who press on in the pursuit of progress become our most valuable champions—continually pushing forward, asking difficult questions, having the uncomfortable but necessary conversations, and facing head-on these intractable issues and the uncertainty of the future. Individuals like Evan Weber '13 and Michelle Regalado Deatrick '83, who have banded together to lead younger generations in demanding our government address the ever-worsening climate crisis. Or Peter Colvonen '01 and Hong Qu '99, who are both shining a light on the hidden biases that are unconsciously programmed into the science and algorithms behind "objective" technology. Or even our own Wesleyan administration, faculty, and staff, who have crafted innovative ways to hold classes without traditional classrooms and are now preparing for the future by revamping our science and PAC buildings to better serve our students and foster even more interdisciplinary collaboration. The magazine team is grateful also to former editor Christian Camerota, who steered us through seven incredible issues.
All of these groups and individuals, through contributions on both a grand scale and more closely felt at home, are helping move our collective community (locally and globally) toward new ways of understanding our current reality, using their unique skills, positions, and points of view to bring us all closer to the next stage of doing better and being better. Together, we're not just waiting for what comes next; we're helping to create it.