The Trick Is to Write Another One: The Captain Partridge Theater Experiment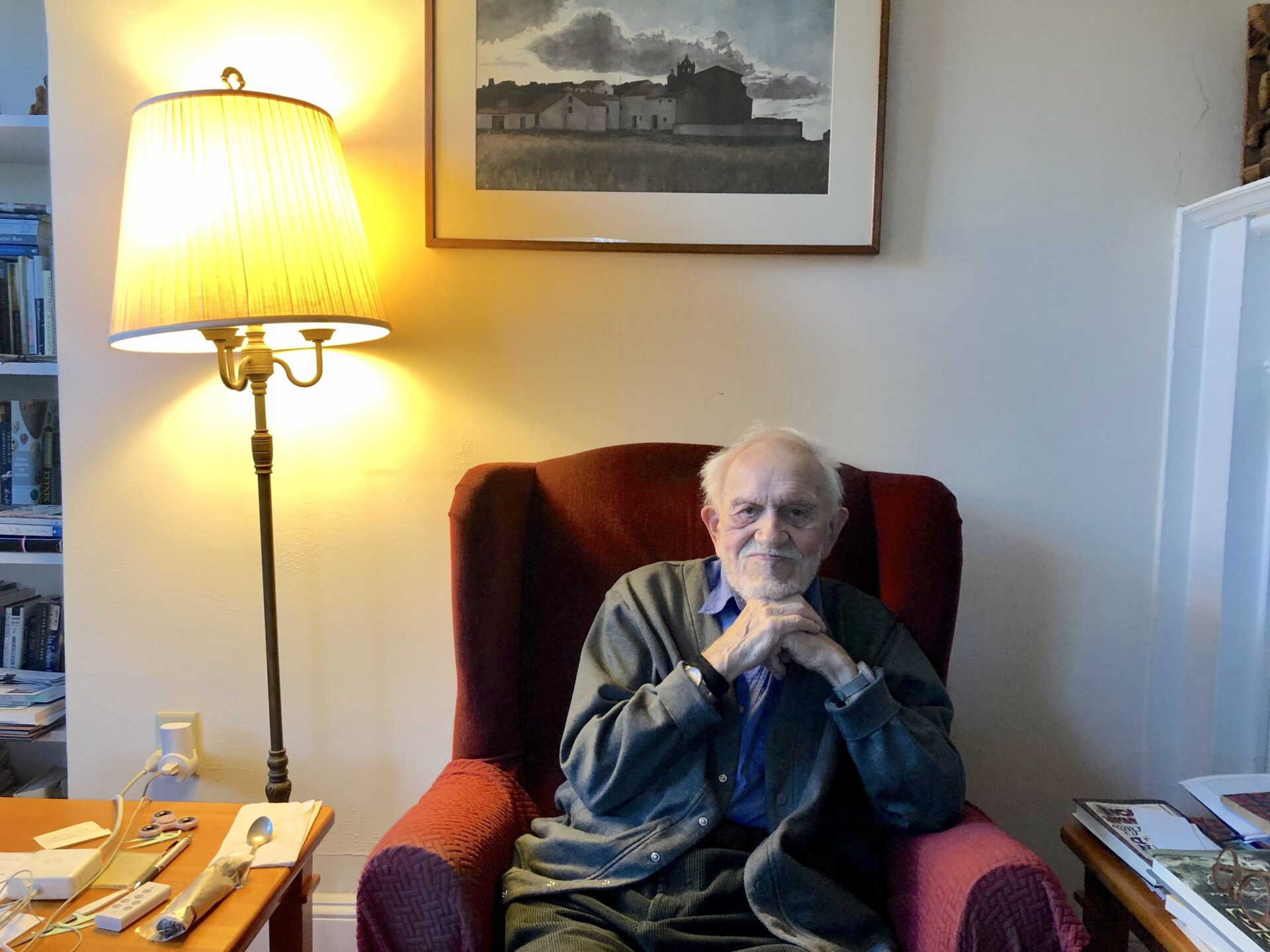 Led by Professor Emeritus of English Tony Connor, Captain Partridge's Studio Theater helped Wesleyan students find their theatrical footing—and nudged many of them toward creative careers.
by Elaine Perlman '89
The group: Captain Partridge. That magic happening back in the 1980s and '90s at Wesleyan University launched the careers of so many accomplished Hollywood writers and directors. A wild variety of one-act plays were performed on a minimal stage with the aim of exploring boundaries and fomenting imagination. For 16 years, students assembled to create this experimental theater that was entirely written, directed, and performed by students.
The inspiration? Professor Emeritus of English Tony Connor, an unconventional and invigorating mentor. "My association with Captain Partridge's Studio Theater was the best thing I ever contributed to the University," Connor said.
Connor grew up in Manchester, England, during World War II. After leaving school at age fourteen, he had a checkered career, first as a textile designer, then as an art schoolteacher, soldier, TV host, poet, and playwright whose numerous plays were performed professionally. During a stint as a writer in residence at Amherst College, Connor gave a poetry reading at Wesleyan. "As soon as I came to Wesleyan, I thought: 'This is the place for me,'" said Connor.
Captain Partridge's Studio Theater—named for Captain Alden Partridge, a West Point reject who established the poorly managed 19th-century Middletown academy that predated Wesleyan—grew out of a playwriting class Connor led in the early 1980s, in which students wrote and acted out original scenes each week in the theater department. The high-spirited, high-volume atmosphere of the class ultimately spurred Connor and Mark Malone '81, a slightly older student with an ability to construct stage sets (and, now, a filmmaker), to start their own theater. They found a venue in a dance studio above the University housing office; the only illumination came from a single light switch.
"It became apparent to me that there was no other opportunity at Wesleyan for staging the short, dramatic pieces that students were writing," Connor said. "Literally hundreds of short plays were performed. The vast majority of the hundreds of students who participated were not theater majors. They contributed their creativity not for credit but for the sheer experience of expressing themselves. Nothing else like this existed at Wesleyan. Everybody rehearsed with a will. Nobody ever dried up. Ours was a secret operation, run on a shoestring—no props, no costumes, no chairs, and it left behind no official record."
The plays ranged from the tragic to slapstick: John Holyoke '88 wrote a scene about a guy who sawed his arm off at a meat-packing plant; Joanna Spencer '91 created a show about a washed-ashore starfish portrayed by actors with arms linked; Zak Penn '90, P'23 wrote about a married couple's search for their disappeared socks. Connor curated the participants' collision with this most creative space; "Let the space challenge, not limit you," he said.
"I always turned up on Sunday to view the scenes and conduct a discussion afterwards," Connor said. "When we first started, people would cry [while being critiqued], and I'd respond with, 'This isn't a therapy session. You can see what has been done and what needs doing.' I wanted real human interaction. I discouraged anybody on an ego trip. If you fell flat on your face and made a mess of it the first time, you could have another go at it a couple of weeks later."
That approach nurtured a coterie of future Hollywood creators. "I originally thought I was educating the next generation of American playwrights," Connor said, "not realizing that the road to success leads straight to Hollywood."
Bob Koherr '83 (formerly Kohrherr) feels nostalgia about those Sunday discussions he described as "[A] creativity jam. Students would go over the theatrical moments of glory. We examined what was unintentionally funny or surprisingly powerful." Koherr noted how Connor's playwriting style mirrors his current life as a professional writer. "The classic case was that it feels good during the read through. Then on its feet, it's a completely different animal. We could see the evolution of the ideas. This wound up being so powerful for acting, writing, and directing later in our lives. Writing is rewriting. We needed to sit with it and hear it. When the Captain Partridge performance sometimes flopped, we'd shake the Etch A Sketch. This helped defeat our fear of failure during one of the most playful ongoing creative experiences. Tony laid the groundwork for the simple joy of the creative process."
Cary Bickley '82 wanted to be an actress. "Ultimately, I became a writer because of Tony. He would say, 'You wrote a play. There were some bloody great parts and some bloody awful ones. The trick is to write another one.' And he spoke to you like you were not just a student but a writer."
Paul Weitz '88 shared that Connor gave notes and didn't hold back. "I think he wanted to put forward that he doesn't know any better than the students. The humility of the setting led to participating for ourselves rather than to impress anybody. Tony reads voraciously, lives life on his own terms, and has tremendous love to put into things."
Jane Rosenberg '82 wrote a play that was a hit, yet someone wrote a scathing review. Connor said, "You know what we do with these?" He held the review over an ashtray and flicked his lighter. As the paper blackened and curled to ash, Connor said, "Nothing is gained by dwelling. Forget this. It is meaningless. Just keep writing."
On the podcast Employee of the Month, Mike White '92 said, "Captain Partridge was a place where you could write realistic or experimental theater stuff for all four years at Wesleyan. Once I did what I thought was a very veiled parody of a production written by Dar Williams '89. Dar said that seeing my parody of her play made her give up playwriting and become the folk singer she is today."
Matthew Arkin '82 remembered, "With Tony, we were stretching ourselves intellectually, emotionally, and creatively."
"Without Captain Partridge, who knows where I'd be?" said Al Septien '85. "Of those I knew from Captain Partridge, everybody got into dramatic writing and is making a living now writing for movies and television."
Curry Rose Hoskey '91 recalled that, "You had to have your own momentum to do Captain Partridge. The experience was an exercise in accepting imperfection."
Penn reminisced that, "Tony would say, 'Why wouldn't you be a writer? Go do it.' He was exactly the kind of person you want mentoring you."
Connor's daughter Becky '89, recollected that, "We were producing the most innovative, interesting dramas on campus. Captain Partridge was democratic and egalitarian, fostering mutual respect among the participants."
When Tony Connor retired in 1998, he said, "Captain Partridge retired along with me. Nobody came forward to sustain the enterprise in which my part had been mostly of encouragement. Most of the people who came into Wesleyan were already very, very talented. I gave them a platform on which they could display their work."
In the end, Captain Partridge was an adventure playground for ideas. It generated a cascading energy. For all who were there, the memories still motivate us all to follow Connor's indelible advice and "write another one."