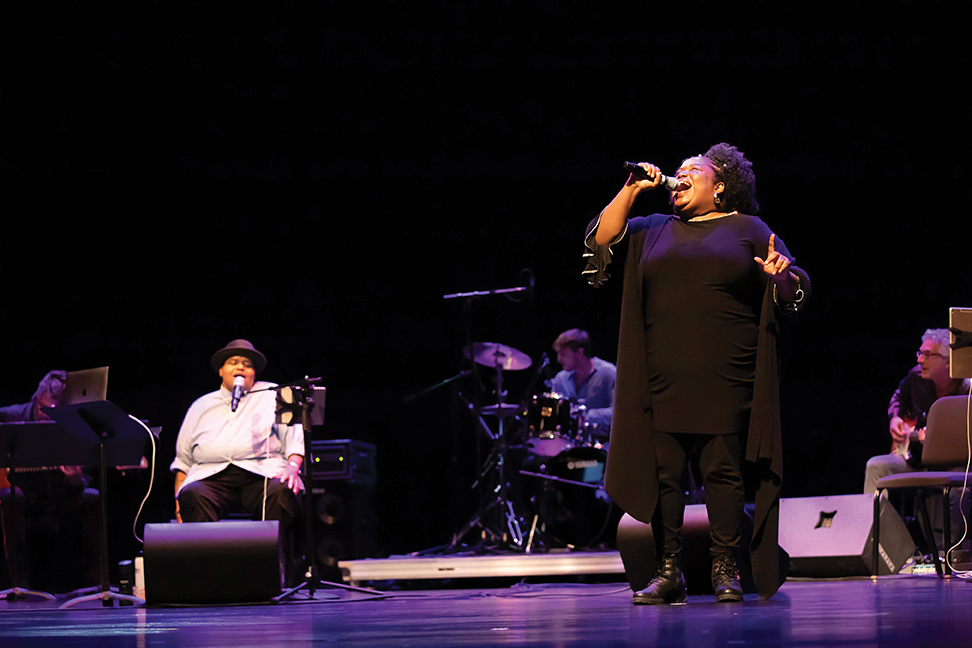 With her new work-in-progress musical, You're Having Too Much Fun So We're Gonna Have to Kill You, Wesleyan artist-in-residence Toshi Reagon examines the roots of the disco music movement and the ongoing violent suppression of Black and Queer joy.
Singer and composer Toshi Reagon and her seven-piece band make the 400-seat Center for the Arts (CFA) Theater feel like an intimate club, coaxing the sold-out crowd to move their bodies. "Just dive into the delirium of the possibilities," she says, recognizing that sometimes you can get tired even from joyful activities. "Be tired tomorrow."
The audience is here to get a glimpse into the creative process behind Reagon's new musical work-in-progress. It's a project that Reagon has been working on for the past 18 months at Wesleyan University as part of the CFA's artist-in-residence program. Commissioned in part by Wesleyan, You're Having Too Much Fun So We're Gonna Have to Kill You features original music that feels like it is from the disco era and encourages "holding space"—treating yourself with kindness, care, and compassion—in the face of oppression. Reagon's story considers living in the full capacity of human expression a sacred right.
There is a gospel-like call and response about being a soldier in the army of the Lord. One character claims "Disco wouldn't be nothing without the church." Another talks about the world being out of balance, and sings about looking to God. "Lord, we need you on Earth," they plead before the tune begins. "Amen," Reagon responds after the song ends.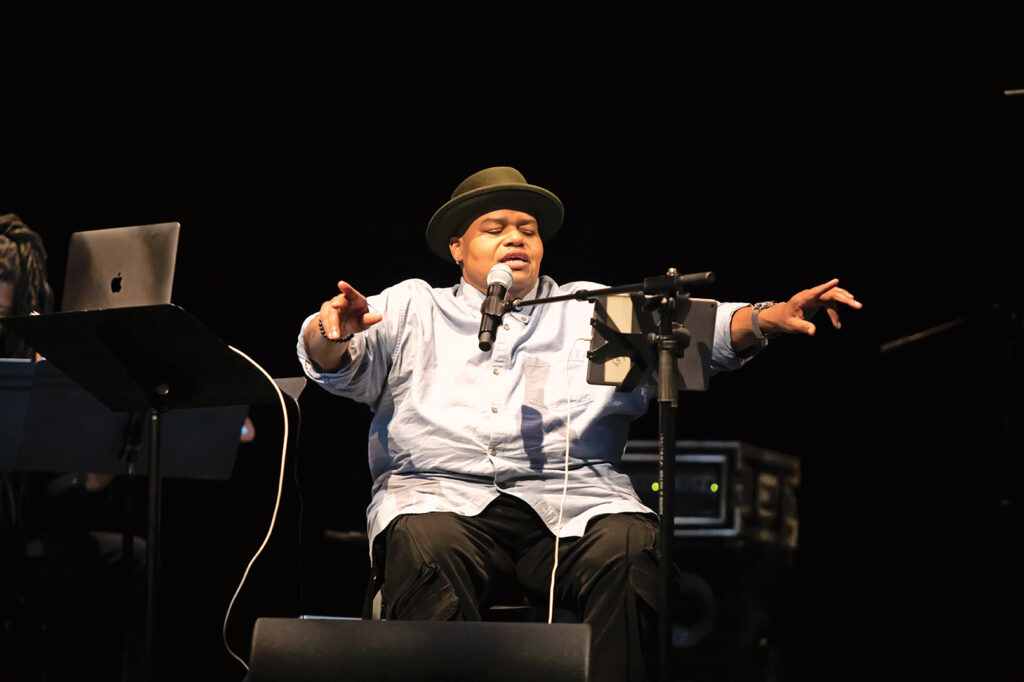 When approached by Wesleyan with the offer of an artist residency to develop this work, Reagon said it occurred to her how much disco pulled from earlier genres: the strengths of church music, the phrasing of blues, and the orchestration of classical music; as well as ingredients from jazz, soul, and rhythm and blues. But disco also brought communities together to dance. "This piece is really using a music that most people would not consider spiritual music," said Reagon. Elements of disco would later evolve into house and electronic dance music.
"Every artist's process is different," said Associate Director for Programming and Performing Arts and Adjunct Assistant Professor of Theater Fiona Coffey, who was drawn to the way that Reagon was positioning the disco era as a microcosm to investigate the ongoing violent suppression of Black and Queer joy. "We tend to build residencies around individual artist needs," said Coffey of the incubation process at Wesleyan, whose staff gives interested artists space and time to pull from the wealth of knowledge at the University. In return, the artist also gives the community (including students, staff, faculty, and the general public) the opportunity to get engaged with their work and process.
Residencies go beyond providing artists with financial, logistic, and administrative resources. "A residency gives time for relationships," said Campus and Community Engagement Manager Rani Arbo, a sentiment that Reagon acknowledges during the performance.
After the first song, Reagon thanks the faculty, saying she learned so much, that it was an honor to be in conversation with them. Arbo recalled that the faculty's initial response of support, interest, and curiosity energized the start of Reagon's residency in April 2021, when Reagon connected over Zoom with professors in disciplines ranging from anthropology and American studies to feminist, gender, and sexuality studies and queer studies who engaged with themes and ideas in common with her research.
Reagon's creative practice is based on creating her own musical path and assembling people around her in collaboration. At an informal run-through in July 2022, Reagon, wearing a t-shirt that read "End Racism," ran through the first four original tunes she had worked on with her band during their week on campus.
Three months later, Reagon has written two more songs for the growing musical.
Assistant Professor of Theater Maria-Christina Oliveras is blown away every time she experiences Reagon's music. "It embodies love, truth, and hope, and cultivates instantaneous community and a call to action," said Oliveras, starring in the national tour of the musical Hadestown. She was part of a Zoom conversation with Reagon at Wesleyan in April 2020, and also sang in the premiere as part of the cast of Reagon's opera adaptation of Octavia E. Butler's Parable of the Sower, a collaboration between Reagon and her mother, Bernice Johnson Reagon, founder of the a cappella ensemble Sweet Honey in the Rock.
As the show reaches the halfway point, Reagon tells the audience to not be shy, and that they are allowed to get up and dance. The entire house gets up and starts dancing along with the seven Wesleyan dance students who are on either side of the stage. "She creates congregation," said Arbo. "She made a kind of invitation that I think people really responded to."
Based in Brooklyn, Reagon visited two Wesleyan Dance Department classes virtually in April 2022, including Dance as Activism taught by Assistant Professor of the Practice in Dance and African American Studies Joya Powell. During the visit, Reagon shared her research into the end of the disco era. One of the students, Sabine Geary '23, majoring in psychology and minoring in dance and East Asian studies, was recruited by Powell in September to dance as part of Reagon's performance.
Powell told Reagon in August that it was really important to her to have students involved in the choreography for the work. "The two of us were on many phone calls trying to vision forward what it would look like," said Powell.
Dance minor Geary rehearsed with Powell for two weeks in the fall, looking at the songs as scores. Four rehearsals lasted between three and five hours, with collective collaborations on set choreography and structured improvisations. "We would take on these different personas depending on the song," said Geary, basing their movements on the musical's characters and different phrases of Reagon's lyrics. "We would listen to the song . . . and come up with movements that we thought encapsulated that specific feeling."
"Being in the moment with the music, and seeing how the music moves you is very much part of disco," said Powell.
Reagon gave input on the choreography at the dress rehearsal the day before the performance. Students ended up dancing during four of the eight songs. "To be paid to dance was something that I never imagined happening," said senior Geary of her first time performing on the CFA Theater stage. "That was the most people I've danced in front of."
Before the performance, there was a moment of mutual appreciation. Geary and her fellow dancers thanked Reagon for the opportunity, and Reagon thanked the students for being involved in helping to make her vision come to life. On stage, calling them out for a post-performance bow, she praised their work as "beautiful."
Like the characters she has created for this work, which include a beloved non-binary gendered person, Reagon has both love and fury in her heart at the same time. "Why are people so infuriated by the natural transformative state of humans when they actually allow themselves to be who they really are?" Reagon asks the October audience.
She wonders aloud why disco was so threatening that it led to the Disco Demolition Night, when records were blown up in Comiskey Park in Chicago in 1979. She talks about the parallels between the end of the disco era and the current global movement of righteousness, decrying attacks on trans children and their families. She denounces violence and war, and the disrespect of the planet. She wants more music and togetherness.
Chanting for "freedom now," in the next song, Reagon expresses hope that everything will change. In the meantime, through her work, she leaves the audience with a taste of what could be.
"It was magical," said Powell. "I need to remember this joy."