The WGA and SAG-AFTRA Strikes: Wes Alumni in Hollywood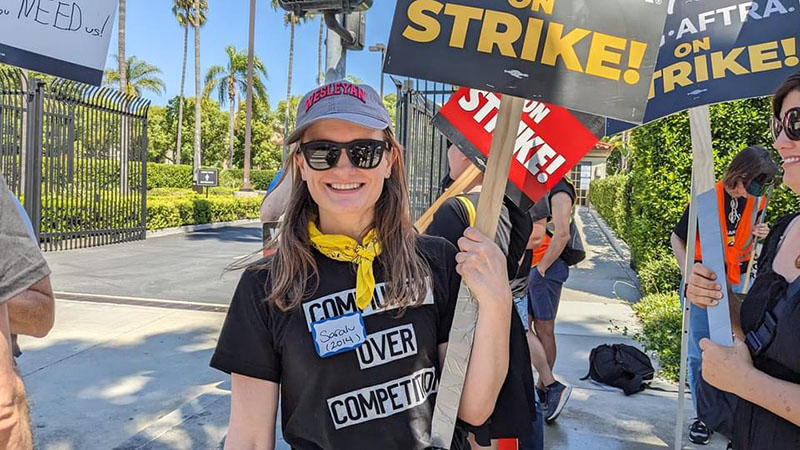 Top photo: Sarah Burkett '14 on the picket line in Los Angeles. Photo courtesy Sarah Burkett '14.
Since the first day of the Screen Actors Guild–American Federation of Television and Radio Artists (SAG-AFTRA) strike on July 14, SAG-eligible actress Sarah Burkett '14 has frequented the picket line, typically wearing a Wesleyan hat and holding a black-and-yellow SAG-AFTRA sign.
"I can't even do the thing that I love anymore," says Burkett, who moved to Los Angeles to pursue an acting career after graduating from Wesleyan. "This is the line in the sand, the demarcation that has been made point-blank that if we don't fight now, we're not going to have any possibility of a career for us or anyone down the pipeline."
Strikers like Burkett desire a more modern contract that affords them enough money and security to survive in the industry. In this new contract, SAG-AFTRA seeks higher wages, regulations around artificial intelligence (AI) to prevent the reduction of paid human workers and to protect actors' ownership of their own likenesses, the right to residuals on streaming platforms, and more.
Bradley Whitford '81, Hon '20 of The West Wing acclaim has been a SAG-AFTRA member for nearly 40 years. He explained that 87% of the union does not make enough money to qualify for health care, meaning that of the approximate 160,000 members, around 139,200 make under $26,470 per year.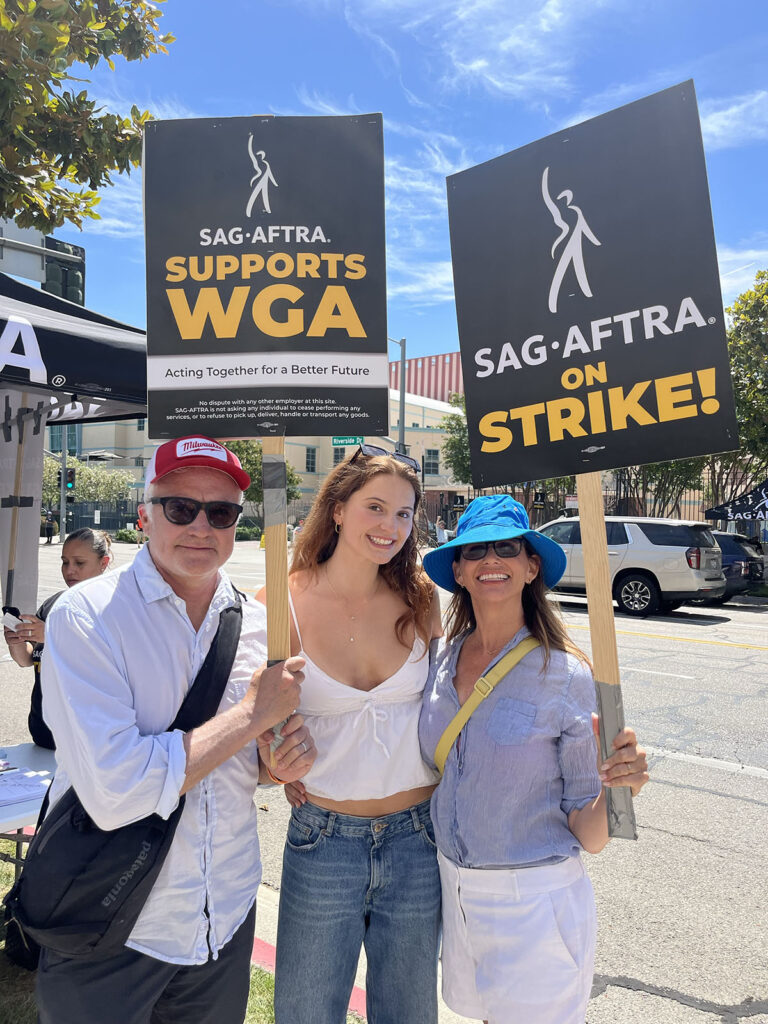 "It's completely insane how the people who create the value in this economy continue to get squeezed," Whitford said.
Both SAG-AFTRA and the Writers Guild of America (WGA) were up for contract renegotiations with the Alliance of Motion Picture and Television Producers (AMPTP) earlier this year. The WGA began striking on May 2 around issues such as the use of AI in writers' rooms and the right to residuals. Even before SAG-AFTRA declared its own strike in July, many of its members, including Burkett, joined the WGA picket line. This summer marked the second time in Hollywood history these two unions have been on strike simultaneously.
"It's hard to feel like you're fighting for the very existence of your livelihood, and the people in power that you negotiate with seem to be deliberately turning a deaf ear," screenwriter Christian Schneider '14 said.
Following a tentative deal with the AMPTP, the WGA strike ended after 146 days on September 27, with terms including higher minimum rates for writers, specific guidelines around the use of AI, better residuals, and more transparency around streaming numbers. Despite attempted negotiations with the AMPTP, SAG-AFTRA has yet to reach a deal, leaving many of its members scrambling to make ends meet as the strike reached Day 100 on October 21. Yet even with the strain of no acting work, Burkett emphasized that putting her body on the picket line feels like the most concrete way to advocate for change.
"There's not this delusional idea that we're all going to become movie stars," Burkett said. "That's not the end game. The end game is to be able to have a consistent job where you can work with people in a creative capacity doing the thing that you love."
She has found a deep sense of solidarity on the picket line, including from fellow alumni who saw her Wesleyan hat and came over to chat. Given the prevalence of Wesleyan alumni in Hollywood, Burkett and Schneider decided to organize a Wesleyan joint picket for both unions. Through their involvement in the University's alumni network, the pair reached out to industry alumni in LA via word of mouth, Facebook groups, and WesTracker, a listserv for alumni in the area. The event took place in Los Angeles on August 23.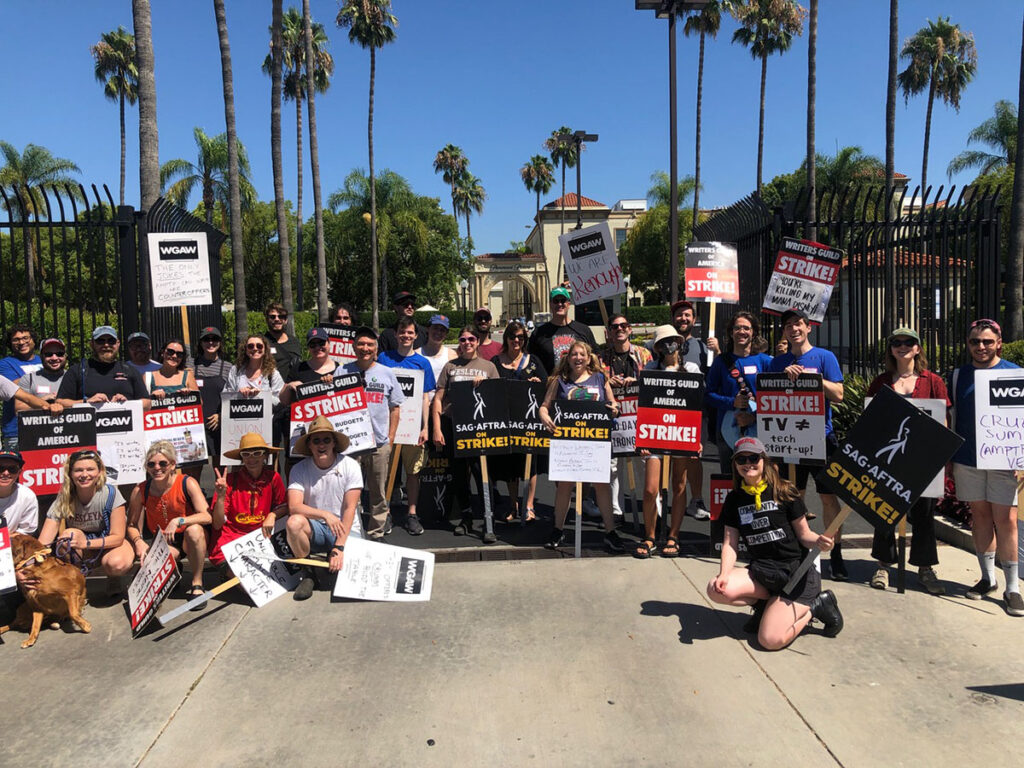 Schneider expressed pride in the picket, which had over 40 attendees from class years ranging from 1979 to the present.
"When it comes to Wesleyan, it's nice to know that we walk the walk, as well as talk the talk," Schneider said. "With our Wesleyan family, we showed up. It's really good to know that we speak with our feet, as it were. I mean, it's one of the reasons why I chose Wesleyan when I was 17 years old."
Writer and actor Julian Silver '12 noted Wesleyan's influence on his post-graduate advocacy and that of his peers.
"Wesleyan is a community where I first learned that you could protest," Silver said. "It was probably where I first developed the will to march, and where I met people who took change into their own hands."
Whitford, too, expressed that his time at Wesleyan helped solidify his sense of activism.
"One thing I learned at Wesleyan was the beginning of articulating to myself the idea that action is the antidote to despair," Whitford said.
As the struggles of regulating the use of AI in creative endeavors and securing equitable compensation under new streaming models extend far beyond the television and film industry, the Hollywood strikes have sparked discussion in other fields.
"It's good to create a precedent in the most visible industry, which happens to be the media," Silver said. "I think it will set the tone for books, for journalism, etc."
After what became known as a "hot strike summer," with the Hollywood strikes gaining national attention, much discourse around the country continues to focus on union efforts.
"The union movement is on the rise," Whitford said. "Awareness of the power of unions and the necessity of unions in a capitalist society—and certainly in this country—has never been more urgent."
For his part, Schneider sees the Hollywood strikes as part of a long history of fighting for labor rights in the United States.
"Protecting workers against the abuses of employers wielding new technology against wages, that's not new," Schneider said. "This is at least 100 years old. It's the same story but in a different color or pattern."
While the Hollywood strikes have aimed to improve the conditions of current workers, a huge focus also lies in the future of the industry and those who will inherit it.
"The most fundamental definition of freedom is the idea that the future is a product of your imagination, that we make the future," Whitford said. "I have been really inspired in these dark times with young people really understanding that. I think that awareness among younger people has really fueled a lot of the solidarity in the strike."
By Rachel Wachman '24