COLLECTING HISTORY: KEVIN STRAIT '97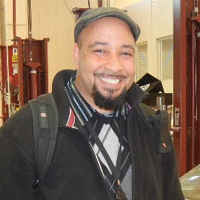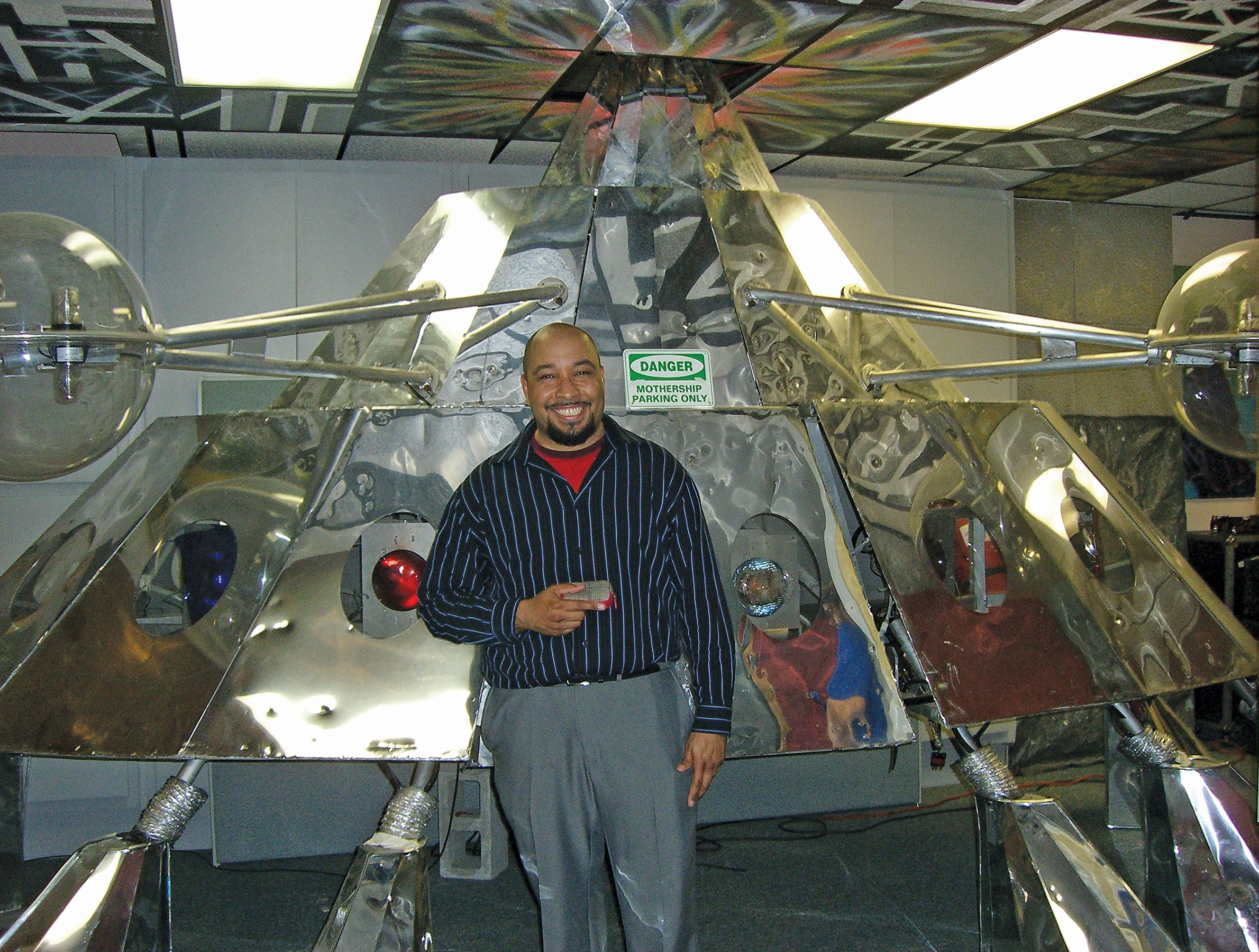 Kevin Strait '97 collects things: old hats, small tools, rusted shackles, dog-eared photographs, Chuck Berry's Cadillac, the P-Funk Mothership …  those sorts of things.
Their common thread is that they will all be part of the Smithsonian's National Museum of African American History and Culture (NMAAHC), due to open in 2016 on the National Mall in Washington, D.C., at a cost of $500 million.
Strait, a museum specialist at the NMAAHC, earned his doctorate from George Washington University in American studies, the same field as his Wesleyan major. As a grad student, he served as a part-time researcher for the museum and "quickly became fixated" with landing a full-time job there.
"I saw it as a perfect fit," he explains. "While I've always kept a broad interest in the humanities, my scholarly interests have routinely converged on an idea that's fundamental to the mission of the museum: that an understanding of the dynamic, complex, and diverse nature of the African American experience provides the crucial framework and critical lens for understanding and truly unpacking American history."
Now fully ensconced at the NMAAHC, Strait collaborates with designers and curators on these upcoming exhibits, which will run the gamut of the full human experience, highlighting artifacts from both celebrations and tragedies and everything in between.
"That's what will make this museum authentic, successful, and a place of dialogue and reflection," he explains. "In one room you'll find the Emmett Till casket. In another, there's a training plane used by the Tuskegee Airmen. In another, you'll find a slave cabin from a plantation in South Carolina. We have to tell the truth—the unvarnished truth, the painful truth, and also, the resilient truth about race, racism, and the ways in which our shared history as Americans have been in our mutual ability to strive, persevere, and grow from this history."
While Strait's position draws deeply on his scholarly knowledge, his compassion and his love of music have also been key components in the field. He assures potential donors that their artifacts will find a respectful home at the museum, serving as a treasured piece of our country's history. At times Strait requires "just a box and a pair of white gloves" to collect an item. At other times, it takes in-depth and wide-ranging conversations, like when musician George Clinton of Parliament/Funkadelic (or "P-Funk") called Strait at dinnertime. Nearly an hour later, Strait happily microwaved the remainder of his meal. "The only way to acquire the collection we want," he says, "is to consistently take the time to build relationships with our donors, often in a face-to-face, hands-on manner.
"These aren't simply random objects to be used in an exhibit," Strait notes. "They are important—often priceless—historical objects that represent the careers, lives, and legacies of the donors. What we're asking for is enormous, and I always try to be cognizant of that."
The request is often enormous in emotional terms, certainly, and sometimes in size, as well, when it's the P-Funk Mothership—that grand stage prop—or Chuck Berry's 1973 Cadillac Eldorado.
"It always takes more time, effort, and group coordination when dealing with large objects," he admits. Still, he wasn't expecting the physical ordeal that the Cadillac presented—despite the inauspicious beginning at Berry's home.
"With our handshake hellos, he looked me dead in the eye and told me 'I'm not giving you anything,'" Strait recalls, but he kept his cool, crediting the adrenaline rush of meeting Berry, as well as his perspective on the musician, gleaned through his research. "I'd learned that he is a no-nonsense person who has been through quite a bit—in life as well as in the music business. I figured that the only way I could walk out of there with a donation in hand would be to listen and to let him know that I understood his concerns.
"After several hours of chatting—about all kinds of music and his fellow St. Louis native, Miles Davis, in particular—and negotiating, he finally agreed to donate his Cadillac, as well as a few other cherished items." The two celebrated the deal with ice cream sandwiches.
Still, Strait's task wasn't complete. When the shipping truck arrived, its mechanical lifting lever was malfunctioning. Additionally, the iconic car had been parked in a field, the tires were nearly flat, and it had rained the night before. It took the final two hours of daylight for Strait and the truck driver to push the nearly two-and-a-half-ton car a distance of 50 yards, through the mud, to load it into the 18-wheeler that would carry it back to D.C. It was a memorable day.
Though not nearly as physically challenging, the acquisition of George Clinton's P-Funk Mothership from his Tallahassee living room was also an important moment for Strait. In telling this story, he starts at Spring Fling 1994:
"P-Funk performed an amazing three-hour concert at the bottom of Foss Hill. My housemate was a D.J. and avid P-Funk fan, and I was fascinated by both the music and the accompanying P-Funk mythology, which added a weird, funky, and totally unique aesthetic to the musical experience."
After the concert, Strait had a chance to talk with Clinton. "Where did the Mothership end up?" he asked the musician. "'Oh, it's out in space somewhere—it'll be back!' he told me. It's funny how these things turn out."
The Mothership began its circle back to Strait with that dinnertime phone conversation. "We talked about doo-wop, his growing up and spending time between North Carolina and New Jersey, our mutual love of Motown, and the genius of Smokey Robinson. He also shared his perspective on the hardships of maintaining and strengthening one's artistic focus while navigating the tricky terrain of the music industry," Strait recalls.
"I think that before parting ways with such a crucial piece of his legacy, he simply wanted to size me up and to see if this new museum of the Smithsonian would be the appropriate home for his crown jewel."
What became evident to Strait was the depth of Clinton's attachment to the object, "not just because of its iconic appeal or the fact that it's the most recognizable symbol of funk's glorious heyday—the Mothership is one of those special objects with deep symbolic purpose and meaning."
As a scholar, Strait deftly delineates this: "The Mothership represents a tangible manifestation of the liberating power and autonomous promise of Clinton's art. In the tradition of Sun Ra and other avant-garde musicians, he developed this grand idea of envisioning African Americans in space as a way to liberate one's mind from the shackles of racism, poverty, and other societal constraints: the Mothership was the symbolic mode of transporting the conscious self to this ethereal place.
"This is an old trope in African American art—in fact, the song 'Mothership Connection' borrows the phrase 'swing down, sweet chariot' from the spiritual 'Swing Low, Sweet Chariot. ' Both musical pieces serve the larger purpose of envisioning freedom for African Americans beyond earthly constraints and racial boundaries.
"Actually, the Cadillac and the Mothership illustrate the same themes: movement, autonomy, liberation—from Chuck Berry singing about the open road and 'riding along in my automobile' to the Mothership symbolically transporting the audience to a place free of racialized constraints. Both objects symbolize how these artists would interpret these grander notions of African American freedom through their music. We're thrilled to have both of them in our collection and I can't wait to see them on the exhibit floor."