STARBUCKS SELECTS SINGLE BY RHODES '90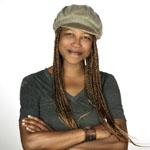 Next time you're seeking a caffeine fix in Starbucks, keep your ears open for a song by J.R. Rhodes '90. Hers is a haunting alto voice—with a throatiness and rich, emotional depth reminiscent of Joan Armatrading—and the song, in a minor key, "Your Pillow," was the first single released from her latest album, I Am. A music major at Wesleyan and a singer/songwriter since then, Rhodes had released three albums previously: Elixir (2011), Afriqueen Stare (2003), and Songs of Angels (1999).
The high-profile single placement, however, is something entirely new. "A career in music can definitely be a winding road," she says. "You have your days when you want to give up. And then you get a little help. And sometimes—you get a lot of help."
Last year, for example, Rhodes had been in talks with a record label for the previous six months and had held off releasing I Am, hoping it would be picked up. "But for different reasons, it wasn't a good fit," she says. "We're still allies—but I was definitely disappointed when that connection fell through."
Then, on her birthday last April, when she was standing in line for a concert, she and the couple behind her began one of those random conversations that crackles with connection.
"It turned out, he makes music placements in commercial venues and he asked me to send him my new album. And a couple weeks later, he messaged me that he was just blown away." The result: "Your Pillow" can be heard in Starbucks—and Rhodes's second single, "Lay the Worry Down," is on the playlists in American Apparel and Eddie Bauer stores, along with St. Regis Hotels. Rhodes, who fondly recalls an internship with music industry executive Pete Ganbarg '88 ("He has so much heart!") and whose online bio names Wesleyan music professors Bill Lowe and Anthony Braxton as "favorite teachers who encouraged me to explore and push beyond any self-imposed boundaries," reflects on her path.
"It's important for all of us to dream—and follow those dreams," she said. "You have to do the work your dreams require, and you have to trust. And then: there's magic that can happen.
"At Wesleyan, I had so many beautiful experiences, which opened my eyes to the importance of people sharing their stories," she added. "That's where I am now: I believe that sharing our stories is one of our greatest contributions to the world. It's how we create community; it's how we come to greater understanding and—hopefully—greater compassion."
Read a Q&A with J.R. Rhodes at bit.ly/2k2NPGw.