Washington's Idea Industry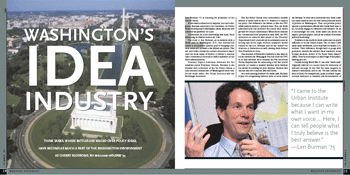 LEN BURMAN '75 IS RUNNING FOR PRESIDENT OF THE UNITED STATES.
If this news catches you by surprise, you can be forgiven. Burman announced his candidacy on Public Radio International's Marketplace show, where he also unveiled his platform: no taxes.
Understand, he is not disavowing new taxes. He is advocating no federal taxes at all. Zero.
The irony is that Burman, an economist with a think tank in Washington, D.C., has devoted his career to the possibly quixotic goal of bringing common sense and fairness to the federal tax system. This tall and lanky chemistry-turned-economics major used his keen sense of humor to deliver a satirical radio commentary directed at deficit spenders in the Bush administration.
Treasury Deputy Assistant Secretary for Tax Analysis under President Clinton, Burman is the founder and co-director of the Tax Policy Center, a joint venture between two of Washington's most venerated think tanks, the Urban Institute and the Brookings Institution.
The Tax Policy Center runs econometric models similar to those used by the U.S. Treasury to analyze tax policy. The difference, he insists, is that the TPC offers analysis without a political slant. True, the Bush administration has provided the center with fertile ground for critical commentary. When Bush released his "Growth and Jobs" proposal in early 2003, the TPC delivered an analysis well ahead of the Treasury Department's and contradicted the administration by noting that about eight million taxpayers would receive no tax cuts. Burman says he has dished out criticism to Democrats as well, among them former Vice President Al Gore.
One measure of Burman's credibility is that twice in recent months theWashington Post has cited the TPC in its lead editorial. Most recently, the Postexcoriated House Republicans for advocating a bill that would provide tax breaks to wealthy families with children but would do nothing for poor families. Burman has decried this bill to anyone who will listen.
As a card-carrying member of a think tank, Burman is part of a burgeoning industry with its locus inside the Beltway. In their most traditional role, think tanks can inject analysis into the ever more polarized world of politics in Washington. They can provide policy options to government officials who barely have time to act, let alone engage in reflection and research. Or, as is increasingly the case, think tanks can churn out experts, position papers, and all the artillery of modern political marketing.
Nowhere in the world do think tanks exert as much influence as in the United States. Out of some 3,500 think tanks worldwide, more than half are within U.S. borders. Their influence, though hard to gauge with precision, extends far beyond sheer numbers, notes Donald Abelson, author of Do Think Tanks Matter? (2002). They have an impact at every stage of the policy-making process.
Coined during World War II, the term "think tank" originally referred to a secure room for discussion of military strategy. In the '60s the term outgrew its defense connotation and by the '70s had become the label of choice for nonpartisan, quasi-academic organizations dedicated to research and dissemination of information about public policy issues, such as the Brookings Institution. As think tanks subsequently proliferated and some tilted to political or ideological purposes, the definition of what constitutes one became muddled, says Abelson. They range in size from a handful of staff to several hundred researchers and assistants, from shoestring budgets to RAND, with a $200-million budget and impressive quarters in Santa Monica, Calif., and in Washington.
Until the 1990s think tanks were little studied, but since then books, scholarly articles, and hundreds of newspaper stories have detailed their growing influence. Think tanks have enhanced their own visibility by marketing their expertise in a variety of channels, most visibly through flooding the media with experts and opinion pieces. Experts regularly ply their views on The NewsHour with Jim Lehrer, political talk shows such as Meet the Press, and network news programs.
Visibility, however, is not necessarily the same thing as effectiveness. Some of the most significant work undertaken by think tank experts takes place away from public view, according to Lael Brainard '83, a senior fellow in economic and foreign policy studies at the Brookings Institution, situated in Washington's Embassy Row area on Massachusetts Avenue.
Brainard, an intense woman who speaks in well-articulated whole paragraphs, was scrambling during a visit last winter to answer a barrage of inquiries from reporters about steel tariffs and the political machinations behind that issue. During the preceding months, however, she had devoted far more time to a foreign aid issue that was unlikely ever to grab as many headlines.
Shortly after the 9/11 attacks, the Bush administration proposed to increase funding of foreign aid by $5 billion in a plan known as the Millennium Challenge Account that would direct U.S. resources to impoverished countries with sound policy environments. The proposal lacked details necessary to create legislation and, as originally conceived, would have excluded some of the poorest countries of sub-Saharan Africa from eligibility.
Her own experience, Brainard says, suggests that how money is deployed, the kind of institutional environment that is created, and the criteria developed for spending resources are critical questions.
"All those questions," she says, "matter more than the specific amount of money for determining how measurably we actually affect the ability of the poorest people in the poorest areas of the world to achieve self-sustaining growth."
She and her colleagues threw themselves into a fast-paced effort to develop recommendations for the Millennium Challenge Account legislation. They interviewed current and previous administration officials about the strengths and weaknesses of the foreign aid apparatus. They quickly published a book designed to influence both the legislation and the administration's internal workings on the issue.
"You might think that the U.S. government, with its resources, could do this level of analysis," she says. "But the answer is, not really. They had a war on their hands. For a variety of reasons, there weren't many people in government who could devote an entire day to this issue, and we were able to do that over a period of months. We were able to have a disproportionate amount of influence."
Positioning of one's ideas as well as tone matter greatly, she points out. Intent on working with the Bush administration, the Brookings scholars presented their foreign aid recommendations as a way to take a good idea and make it better. They vigorously marketed their views on Capitol Hill, urging legislative officials to consider modifying the ways in which they exercise oversight of agencies engaged in the foreign aid process. Brainard received calls from both Republicans and Democrats requesting that she elaborate on recommendations.
As a result, all the major amendments to the Millennium Challenge Account legislation conformed substantially to their recommendations. More often, she acknowledges, it's much harder to see one's fingerprints on legislation.
Brainard joined the Brookings Institution after serving the Clinton administration as deputy national economic adviser and deputy assistant to the president for international economics. Working on the White House staff, she says, is a 24/7 commitment to a life ruled by cell phone and pager, where the need to act trumps time for reasoned discourse and reflection. She was summoned in the middle of the night to deal with the collapse of the Russian ruble; she has come back from Caribbean vacations before they were begun; she returned calls from a remote gas station in Alaska.
"Coming out of the White House, I had a range of possibilities," she says. "Brookings was attractive for the opportunity to stay on top of policy debate. People at Brookings generally have academic experience and rigor, but they also have been in the trenches. The scales have fallen from our eyes. We know what goes into the making of policy: not just the merit, but also the money, influence, and power that feeds into the political process. Once you've been that close to the political process, it's hard to accept analysis that is not informed by that level of personal experience."
A revolving door connects think tanks and government, turning with changes in political fortune. No Wesleyan graduate has a longer perspective on these comings and goings than Robert Hunter '62, former U.S. ambassador to NATO and now senior adviser at the RAND Corporation.
Barely two years out of Wesleyan, Hunter was studying under a Fulbright scholarship at the London School of Economics when he was asked to serve as a deputy to one of Lyndon Johnson's special assistants.
"It was the time of the Great Society, and I was a fly on the wall doing health, education, welfare, and some labor and foreign affairs," he recounts. He worked on Medicare and the Elementary and Secondary Education Act.
Hunter is also a quick writer—an indispensable skill for anyone attempting to influence policy in public forums. For that ability he credits the weekly papers he ground out as a student in Wesleyan's College of Social Studies. In the White House, he soon found that skill put to the test. One day in July of 1964, he was asked to jot some notes about international trade. To his considerable surprise, he looked at the television a short time later only to see President Johnson reading his material at a press conference.
Hunter held a series of political positions, including foreign policy specialist for Sen. Edward Kennedy. He detoured to a think tank, the London Institute for Strategic Studies, where he co-wrote an influential study of the Six-Day War. He gained more foreign policy expertise and made more connections working in the White House for Zbigniew Brzezinski, the national security adviser to President Carter.
With his doctoral degree from the London School of Economics, Hunter could have opted for an academic career, but he shares a characteristic of alumni at think tanks: He has a practical bent and likes to make things happen. As a RAND adviser he is able to exercise influence partly through his extensive network of contacts acquired over decades.
"I'm a builder," he says. "I get people engaged in the political process. I'm a great believer in the practice of democracy."
The apogee of his career (to date) was his service in the Clinton administration as ambassador to NATO, where, as he put it, "you don't have to have tea with the archbishop." It's the only U.S. mission in which all Defense and State Department employees are a fully integrated staff, working for the ambassador, who thus wields considerable clout in Washington. Hunter led the effort to create the Partnership for Peace: a wide-ranging program to reform NATO and prepare it for expanded membership as well as for missions outside the core area. This initiative (and NATO's engagement in Bosnia, which Hunter negotiated) laid the groundwork for NATO's current role overseeing the international security operation in Afghanistan, a task that NATO nations would not have contemplated prior to Partnership for Peace.
At RAND, Hunter is doing what out-of-power government officials often do at think tanks: presenting criticism and policy alternatives to fellow professionals and to the media. In a steady stream of opinion pieces published in leading newspapers, he has taken the Bush administration to task for its go-it-alone approach to world affairs and, particularly, to Iraq.
A year ago Hunter argued in the Financial Times that NATO should assume the military burden in Iraq, while a United States-European Union strategic partnership should assume the nonmilitary burden. He has consistently argued that the Europeans have more experience with the complex and arduous task of nation-building—a task that has moved front and center since the 9/11 attacks.
Hunter's office window overlooks the side of the Pentagon that was struck by a hijacked jet on 9/11. The view has symbolic meaning, not only because RAND does half of its business as contract work with the Pentagon, but also because after the attack, the Bush administration intensified its go-it-alone strategy that Hunter has opposed so vigorously. "There is a huge cadre of people in both parties who want to get back to the bipartisan tradition of engaging with other nations," he says. "Whoever is president next will have no choice but to be more centrist."
In the meantime, he is serving as president of the Atlantic Treaty Association, an umbrella organization for all the Atlantic Councils (NGOs that support the political and educational work of NATO in 40 countries). He argues that the United States and Europe are intertwined in a $3-trillion economy that makes good relationships imperative. Promoting the Atlantic Alliance remains central to his life's work, and he is cultivating a younger generation of leaders who believe in internationalism. Among these is Alex Serban '92, also a CSS graduate, who heads the Romanian Atlantic Council, Casa NATO.
The effort Hunter devotes to op-ed writing and media appearances is indicative of the rise of think tanks in the media. University scholars traditionally have been the primary source of academic commentary for the press, but think tank researchers have made significant inroads in that area.
In the effort to garner media attention, the nonpartisan Brookings Institution remains a leader, according to a recent study. Brookings presents reporters with one-stop shopping for a wide variety of highly regarded experts. Nevertheless, the most remarkable story of the past several decades has been the rise to prominence of avowedly conservative think tanks such as the Heritage Foundation.
Born in the wreckage of the Republican Party following Watergate, the Heritage Foundation has grown into a $30-million-per-year operation. Beyond its research agenda, it has inspired envy and admiration for adroit packaging and promotion of conservative ideas. It was a pioneer in the development of conservative talk radio. Heritage was the first of the conservative think tanks in Washington with a blatantly ideological agenda—almost a battle cry—that has strained against the legal requirement that think tanks refrain from lobbying. Heritage supplied much of the agenda for the Reagan administration with its 1,093-page policy manual described by UPI as "a blueprint for grabbing the government by its frayed New Deal lapels and shaking out 48 years of liberal policy." Washington Post columnist David Broder notes that the ascendancy of conservatives after Watergate was, in part, an intellectual battle with Heritage and the Cato Institute playing lead roles in promoting ideas such as welfare reform and school vouchers. In this conflict, Heritage has not only advanced its own ideas but also brought together representatives of more than 200 conservative policy organizations to coordinate efforts.
Although they have a political agenda, Broder credits these think tanks with being "models of healthy democratic discourse at a time when too much of the policy debate here takes the form of Crossfire-style exchanges of insults." Nor are they monolithic in their political stance. Heritage tends to be mainstream conservative, while Cato is more libertarian in its roots. Neither one has given the Bush administration unqualified support, particularly since the Bush policy-making apparatus has reportedly not been as receptive to outside ideas as previous Republican administrations.
Think tanks with a liberal mission have been slower to emerge, but the success of conservatives in grabbing the national agenda has provoked a response with the recent creation of the Center for American Progress, backed by liberal Democrats including George Soros. The center's founder, former White House Chief of Staff John Podesta, hopes to train a new generation of individuals who will speak out on behalf of liberal causes.
In an office on Washington's Dupont Circle, Victoria Holt '84 analyzes peacekeeping in the post-9/11 environment as an associate with the Henry L. Stimson Center. Unlike RAND, the Stimson Center is a relatively small think tank: about 25 individuals.
"When I first arrived in D.C., barely out of Wesleyan, I thought that think tanks were dull," she says. "I wasn't sure how they worked. Reagan was president and we were in the Cold War. Issues such as nuclear deterrence theory had been thought about for decades.
"Now the whole paradigm for U.S. foreign policy and the U.S. role in the world has shifted. It's a very interesting time in which think tanks are lively. You can't just take the approaches of the Cold War and slap them on the current environment—whether it's foreign aid, our military structure, or how we engage other countries. For example, where does counterterrorism fall on the list? We should fight terrorism, but what does that mean for our budget? How do we do it?"
Holt came to the Stimson Center with an extensive background in the United Nations and peacekeeping issues acquired as a staffer on Capitol Hill, with NGOs, and in the U.S. State Department. The nature of U.N. peacekeeping operations has changed, she says, from traditional missions in which peacekeepers acted as neutral parties to complex missions with more intrusive mandates. By 2003, the U.N. had undertaken 56 peacekeeping operations since its formation, 43 of those since 1989.
Stung by its failure to prevent the 1994 Rwandan genocide and the 1995 Srebrenica massacre in Bosnia, the U.N. charged Undersecretary-General Lakhdar Brahimi with developing recommendations to reform peacekeeping missions. The report was presented in 2000, and Holt subsequently undertook a massive project with her colleagues to monitor the implementation of the Brahimi recommendations.
"When you are working with stacks of paper," she says, "you have moments of doubt. You think, 'So I've figured out where recommendation 16b stands. Who cares?'" She was therefore gratified when she and her colleagues briefed U.N. staffers, and more than 100 people showed up for a standing-room-only crowd.
Holt runs a series of roundtable discussions, deliberately held away from public view. "We can have a conversation without worrying which side of the aisle people are sitting on," she says.
This approach has helped the Stimson Center host discussions about Afghanistan. In a published paper she has argued that the United States needs to act much more aggressively to bridge the security gap that will continue to exist for some time until Afghan military, police, and border forces are trained and fully staffed. In the meantime, security problems exist throughout Afghanistan and are hindering reconstruction efforts.
After hosting a gathering of representatives from NGOs and security experts with a background in peacekeeping, the Stimson Center made recommendations for enlarging the domain of the International Security Assistance Force beyond Kabul. Congress subsequently authorized $1 billion in support of a similar proposal, but the administration disagreed and did not expend the funds.
"We've found that there are a wide variety of opinions about Afghanistan within the administration," she says. "People don't necessarily want to contradict the leadership, but they are curious about the substance of various arguments. They want a briefing, but they don't want it to be public."
As with Lael Brainard just a few blocks away, Holt enjoys the opportunity to research and analyze issues, though she acknowledges that being in government provides an adrenalin charge. Still, government has its downside.
"Even at the State Department, you are never treated as a neutral spokesperson. Here at the center, there is not a secret agenda. Think tanks can provide a long-term view; they can be stable. Anybody of any political stripe can turn to them."
If Holt is riding a wave of interest in security and peacekeeping issues, Len Burman at the Tax Policy Center has caught a surfer's dream. The Bush administration has made controversial tax policies the centerpiece of its domestic policy, and the TPC has quickly gained a reputation for independent analysis since its establishment two years ago. Political polarization in Washington around the tax issue has been good for the TPC.
Tax policy also has become one of the principal means for advancing social policy. Whether Democrats are focusing on the earned income tax credit (now the largest form of cash support for low-income working families) or Republicans are promoting further cuts in capital gains taxes, some of the most significant changes in our lives are discussed and enacted through tax policy.
"I love being in a position to influence policy for the better," he says. "We get a press cite every day, lots of invitations to testify before Congress; lots of calls from Congressional staff asking informally for advice."
In January and February, when the president's tax proposals are issued, Burman has to keep up his energy level "to say the same thing 20 times" in conversations with reporters. Tax policy stories, moreover, don't always sound exciting to editors. With some disgruntlement, he recalls a network news interview on a proposal that would affect millions of people that didn't make it onto the news, while a story about Hillary Clinton's dissatisfaction with the size of her office did.
The TPC uses all the tools employed by nonpartisan think tanks to get out its work: dozens of published discussion papers and policy briefs, op-eds and other commentaries, symposia, Congressional testimony, and a Web site that Forbes magazine rates as one of the top five tax sites. Burman echoes the sentiment of his fellow alumni at think tanks when he says that he prizes the independence that comes with his position.
He worked for more than a decade at the Congressional Budget Office and left when a study he carried out on capital gains was quashed for political reasons. He has taken full advantage of the freedom he has at TPC to criticize, for example, the large efforts the IRS expends to audit low-income people in contrast to the agency's minimal efforts to audit the rich.
"I came to the Urban Institute because I can write what I want in my own voice," he says. "Since people take us seriously, I also feel an obligation to get things right and to be fair. Still, I say exactly what I think. When I was at Treasury, I had to endorse bad ideas. Here, I can tell people what I truly believe is the best answer."