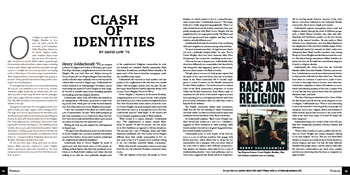 ON AUGUST 19,1991, IN CROWN HEIGHTS, BROOKLYN AT 8:20 P.M., the police escorted the motorcade of the Lubavitcher Rebbe Menachem Schneerson (a Jewish religious leader) down President Street, heading west across Utica Avenue. After the police car and the Rebbe's vehicle passed through the intersection without incident, a station wagon containing members of the Rebbe's staff entered the intersection through a yellow or red light and was struck by another car heading north on Utica Avenue. The station wagon careened into two Black Guyanese children, Gavin and Angela Cato, playing on the street. Seven-year-old Gavin died instantly, and his cousin Angela was critically injured.
A crowd gathered, and police arrived nearly immediately. By 8:25 p.m., two ambulances were on the scene: a private ambulance staffed and funded by orthodox Jews, who were asked by police to take away the driver and the passengers of the station wagon, followed a minute or so later by a New York City EMS ambulance, whose paramedics tended to the children on the spot.
During the next few hours, the crowd gathered at the scene of the accident grew larger, angrier, and increasingly violent. The anger and violence spread beyond the immediate area, and Black members of the crowd headed west toward Kingston Avenue, the center of the Hasidic settlement in Crown Heights. The crowd splintered into small groups and started breaking windows of homes, burning cars, and assaulting Jewish residents. At 11:30 p.m., five blocks from the accident, Yankel Rosenbaum, a visiting 29-year-old non-Hasidic orthodox Jew and graduate student from Australia, was stabbed by Lemrick Nelson Jr., a 16-year-old Black Trinidadian American from Brooklyn. Rosenbaum died three hours later.
For the next three days, rioting and scenes of violence between Blacks and Jews continued in Crown Heights, which a government report later described as "the most widespread racial unrest to occur in New York City in more than 20 years."
Henry Goldschmidt '91, an assistant professor of religion and society at Wesleyan, grew up in Park Slope, Brooklyn, a neighborhood not far from Crown Heights. His new book, Race and Religion Among the Chosen Peoples of Crown Heights (Rutgers University Press, 2006) is the first major scholarly work to look beyond the violence that occurred in August 1991. Goldschmidt describes himself as an anthropologist of religion, and by researching the people of Crown Heights at close range, he was able to consider many issues, including questions surrounding racial and religious identities.
Goldschmidt, whose work still reflects his interests as an undergraduate at Wesleyan, spent about 10 years working on his book, which grew out of his doctoral dissertation. Part of his interest in Crown Heights was personal.
"I feel very committed to Brooklyn as a whole, and as a set of communities," he says. "Most anthropologists go and work somewhere 10,000 miles from where they live, but I went about a mile and half from where I grew up and that sense of connection was important to me."
Writing the book was also inspired by what happened in August 1991.
"Though it's not talked about as much now, the violence in Crown Heights was a powerful symbolic and political issue for New Yorkers. In my work I wanted to understand the neighborhood behind the headlines."
Goldschmidt lived in Crown Heights for much of 1996–1998, and interviewed scores of local people, including political figures who had been prominent in activism or in Black-Jewish relations and others who had nothing to do with the more politically charged parts of the neighborhood. Religious communities he studied included the Lubavitch Hasidic community, Black Christians, Rastafarians, and Black Hebrew Israelites. He spent much of his time at churches, synagogues, yeshivas, and Bible study classes.
Goldschmidt did research in local archives and met people in the neighborhood who had their own manila folders with newspaper articles from the past. He also drew upon Anna Deavere Smith's important theater work on 1991 Crown Heights, Fires in the Mirror.
Crown Heights is situated in north-central Brooklyn, comprising about 50 to 60 square blocks, with a population of about 210,000. Like a number of neighborhoods in New York City and other urban centers around the country, Crown Heights was predominantly white and Jewish from about the 1920s or so through the 1960s. But then a nationwide trend of "white flight" to the suburbs left Crown Heights populated mostly by Black residents.
"What evolved is a unique dynamic," Goldschmidt says. "The neighborhood is almost entirely Black, about 80 percent. Of that 80 percent, the vast majority is Afro-Caribbean as opposed to African American. The area also has a mix of Hispanic, Asian, and Native American inhabitants. But what makes Crown Heights different from other similar communities in U.S. urban areas is that 6 to 8 percent of its residents belong to the very orthodox Lubavitch Hasidic community."
While other Jewish communities chose to move away from the city, the Lubavitch Hasidim consciously chose to stay.
"The vast majority of the time, the people in Crown Heights are mostly content to live in a respectful ignorance of each other," Goldschmidt observes. "The neighborhood is totally integrated geographically. There's no solely Jewish block and the Jewish community lives completely interspersed with Black Crown Heights. But the neighborhood is very segregated socially. The Blacks and Jews don't spend much time together, and they see the world in radically different ways."
Goldschmidt finds that this situation of not socializing with one's neighbors is common among urban dwellers.
"In most circumstances that's all right because there's not such a politically charged divide," he says. "But in Crown Heights, there have been moments when 'blissful ignorance' has turned into something much worse."
Such was the case in August 1991. Goldschmidt writes about how differently two communities that lived side by side interpreted what happened, based on their perceptions on what it meant to be Black or Jewish.
Though almost everyone in both groups agreed that the death of the 7-year-old Gavin Cato was an accident, many in the Black community felt it revealed negligence or a lack of concern by the Hasidic community for their Black neighbors. The death seemed to confirm some of the Black community's suspicions of racism within the Hasidic community. Some Blacks made accusations that the driver of the station wagon may have been speeding or run a red light and that the staff of the private Jewish ambulance didn't do what they could to help the Black children.
The Hasidic community denied these accusations, while they felt that the stabbing of Yankel Rosenbaum and other violent acts that occurred around the same time confirmed the anti-Semitism of the Black community.
As Goldschmidt explains, "Black Crown Heights residents viewed this violence as a 'riot'—or a 'rebellion'—triggered by Black frustration at white privilege, while Jewish residents viewed it as a 'pogrom' triggered by baseless Gentile hostility toward Jews."
Goldschmidt poses in each chapter of his book an issue or a set of cultural questions that engage both Blacks and Jews, which allows him to bring the two communities into a dialogue with each other while at the same time to address their different perspectives. One chapter, for instance, deals with food as a way of understanding identity. Some local politicians and activists have suggested that Blacks and Jews might benefit by sharing meals; however, because of the strict dietary restrictions followed by the Lubavitch Hasidic community, this is not as simple as it sounds.
Goldschmidt explores assumptions about racial and religious identity through his study of different groups, such as Black Hebrew Israelites who claim that Afro-American and Carribbean peoples are the true descendents of the ancient Israelites. He also spoke to Black Orthodox Jews, Rastafarians, and even Black Baptists in the neighborhood who cited their Israelite origins. Before Goldschmidt started his research, he didn't realize how widespread these Black Israelite narratives were among Blacks in Crown Heights and elsewhere around the country. The idea of being a descendant of Black Israelites, he points out, does not fit neatly into conventional categories of racial or religious identity.
Goldschmidt also writes about how the Lubavitch Hasidim differ from other Hasidic, Orthodox, and secular Jews. Lubavitchers are much more observant and stricter in their practice of Jewish law than other Jews. They also have taken on a mission to reach out in public to secular Jews to encourage them to become more observant. Lubavitchers emphasize a vision of Jewishness as an inherent and inherited property of the soul, a unique form of soul that has been passed down from the patriarchs Abraham, Isaac, and Jacob.
"The idea of having an inherited soul is a form of identity that doesn't quite fit into the usual categories of race or religion," Goldschmidt says. "What is most interesting to me in my research is observing all the ways people use categories such as race, religion, nation, and ethnicity to define identity and provide structure to the social world, while at the same time, many of us don't fit neatly into these categories."
Goldschmidt hopes that readers of his book will consider how complicated questions of human identity and difference are.
"There's often a tendency to place conflicts like the violence in Crown Heights into simple categories relating to race and religion," he says. "But you can't label Black identity in America as strictly racial or Jewish identity as strictly religious and leave it at that. All these different identities that people claim—and the ways in which they live and form communities—are much more complex and far more interesting than the terms or categories we apply to them."