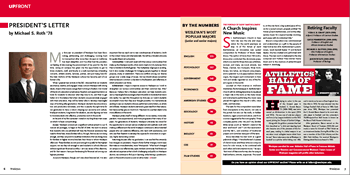 My first year as president of Wesleyan has been fascinating, exhilarating, and challenging. Coming back to Connecticut after more than 20 years in California has been delightful, and I've often had the paradoxical feeling of discovering the environment of my past for the first time. Living on campus has given me the opportunity to get to know students, staff, and faculty in a well-rounded way. Attending concerts, athletic events, lectures, parties, and just being here for the daily rhythms of the Wesleyan culture has become part of our family's life.
When I greeted new arrivals in the fall, I stressed that our students are intense, creative, and engaged. Many come to Wesleyan with strong ideals, dreams that we encourage them to bring to fruition. Our model of liberal arts education emphasizes freedom and experimentation as tools for students to discover what they love to do, and then to get better at it. We believe that when students are passionately engaged with their education, they will be better able to develop meaningful ways of working after graduation. Wesleyan students become innovators and productive risk-takers, and this is exactly the right time for our graduates to have a role in shaping our economy and culture. Wesleyan students, long known for idealism, are also figuring out how to translate ideals into effective, productive work in the world.
At the end of my first semester I noted on my blog three main areas on which I'd been concentrating:
Access: Wesleyan announced a significant enhancement to our financial aid packages, to begin in the fall of 2008. We want to ensure that students who are admitted will have the financial assistance they need to thrive here. Many families tell us, though, that we are not doing enough, and they can point to wealthier institutions that are doing more for families in higher income brackets than those to whom Wesleyan offers aid. These families are not poor enough to qualify for the highest support, nor are they rich enough to send students to schools like ours without significant financial sacrifice. I am very aware of this dilemma, and for that reason I have put fundraising for financial aid among our highest priorities.
Access to Wesleyan, though, isn't only about financial aid. It is also important that we reach out to new constituencies of students—both in the United States and internationally. We will be a forceful advocate for quality liberal arts education.
Communities: I visit each week with the various communities that make up the Wesleyan world—from swim meets to COL lectures; from Para la Familia to football games. The multiplicity of groups is exciting, but it also creates challenges for bringing people together in shared purpose, study, or celebration. There are conflicts among our diverse groups over a wide range of issues. But we should always remember what we have in common: a devotion to the freedom (and affection) in which education can thrive.
Achievement: I hope to improve access to Wesleyan as I work to strengthen our various communities and their common ties. Why? Because I believe that a Wesleyan education can help students envision a meaningful future and give them the skills to translate that vision into reality. I've seen this throughout my first year, as I watch students accomplish more than they ever thought possible. It is tremendously exciting to see our students shine as performers and scholars, as artists and athletes. Wesleyan students demand a great deal from their education because they give so much to it. They learn to use their ideals to be more effective in the world.
Wesleyan prides itself on being different: more creative, more independent, more experimental, and more progressive than many of our peers. For generations of students, Wesleyan University has stood for the opportunity to connect serious intellectual and aesthetic work with making a difference in the world. Wesleyan continues to attract talented people who can celebrate difference, who learn with exuberance, and who use their freedom to develop the capacity for innovation in a rigorous, highly demanding context.
Returning 30 years after my graduation, I can see that the university has changed. As president, I hope to foster further changes, but in ways that make us more distinctive, more "Wesleyanish." What hasn't changed on campus is our affectionate, open-minded community that fosters an educational experience that is both challenging and joyful. As Wesleyan alumni, we continue to find joy in learning, while having a positive impact on the world around us and on alma mater.