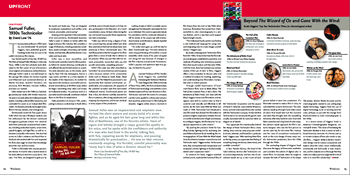 Two associate professors of film studies, Lisa Dombrowski '92 and Scott Higgins, have published groundbreaking books that are sure to be useful in American film classes.
Lisa Dombrowski's If You Die, I'll Kill You: The Films of Samuel Fuller (Wesleyan University Press, 2008) is the first scholarly work dedicated to the film career of one of America's most original and audacious writer/directors. Although Fuller's work is not well-known to the average film viewer, his movies inspired and influenced such acclaimed directors as Martin Scorsese, Quentin Tarantino, Jim Jarmusch, Wim Wenders, Francois Truffaut, and Jean-Luc Godard.
Fuller started out in the 1940s at a low-budget poverty-row studio with limited resources. He went on to work within the Hollywood studio system, including a stint at 20th-Century Fox, and concluded his career as an independent filmmaker. He directed primarily low-budget action films in the war, western, and crime genres.
Dombrowski wrote her first paper about Fuller when she was a Wesleyan student, and her enthusiasm for the director continued throughout graduate school. Her research drew from previously unused archival materials, including production reports, script notes, payroll budgets, and legal files, as well as interviews and public information. She also had access to Fuller's relatives and found that individuals who worked with him and respected his films were eager to share their knowledge about the man and his movies.
"Fuller's a filmmaker who arouses passionate interest. It's hard to take a neutral stand on his work; either you love him or you don't," she says. "His films are designed to grab you by the lapels and shake you. They are designed to emphasize contradiction and conflict, to be visceral, provocative, and arousing."
Drawing on her expertise in the intersection of art and commerce, Dombrowski examines Fuller's career in relation to trends within the larger American film industry. She considers a range of influences, including production conditions, studio oversight, censorship, and market trends, and how they affected the director's narrative and visual style.
Fuller was a born storyteller, and Dombrowski considers how his life experiences before he started directing contributed to and affected the way he told stories on screen. His early education was on the streets, working for New York City newspapers, first as a copy runner and then as a crime reporter. In the depths of the Depression, he worked his way across the country as a journalist and cartoonist and ended up on the West Coast, where he began submitting story ideas and scripts to Hollywood studios. His previous work as a journalist would eventually contribute a tabloid flavor to the films he would direct.
Fuller joined the U.S. Army in 1941, participating in arduous combat duty in North Africa and Sicily, and on Omaha Beach on D-Day. He also participated in the liberation of a Czech concentration camp. He kept a diary during the war and would incorporate these experiences into later screenplays.
"Fuller was able to bring a degree of realism concerning how people talked and what they cared about that had not always been seen previously in films," Dombrowski says. "The real-life experience that he brought to his films gives them a sense of truth that is distinct in his pictures. When you pair that with his visceral, provocative, in-your-face style, you end up with memorable, compelling pictures."
Fuller's film style was often described as "primitive" by some American and European critics because several of his provocative works such as Pickup on South Street, Shock Corridor, and The Naked Kiss possessed a raw spontaneity that seemed unschooled, unpredictable, and unplanned, the opposite of the polished narrative style that dominated Hollywood movies. Dombrowski points out that, in fact, the director carefully planned his films in advance, often doing storyboards and mapping out sequences, and he was involved in every aspect of the production.
Looking closely at Fuller's complete oeuvre strengthened Dombrowski's admiration for him as an individual. She came to appreciate deeply his persistence and his continued attempts to tell his stories in his unique way with tremendous honesty and enthusiasm, despite repeated obstacles in his path.
"He really never gave up until the day he died," Dombrowski says. "He never retired, he never stopped thinking of himself as a visual storyteller, while many of his peers dropped out along the way because of changes in the film industry and personal frustrations. Fuller's passion and optimism kept him going. He lived for his yarns."
Associate Professor of Film Studies Scott Higgins has published Harnessing the Technicolor Rainbow: Color Design in the 1930s (University of Texas Press, 2007), the first scholarly history of Technicolor technology and aesthetics and a detailed analysis of how color functions in film. Technicolor was both the name of a company and the name applied to a three-color process that would be predominant in filmmaking for decades. Higgins writes about a moment in film history from the mid- to late-1930s when American filmmakers first turned from black-and-white to color cinematography in a serious fashion, and in a way that could support feature-length movies.
"The Hollywood studio system was finding a new method and language for using color and integrating color to create images and tell stories," Higgins says.
By closely analyzing seven Technicolor films from the 1930s, he examines how the filmmakers and designers established conventions and methods of handling color in American popular films that would endure until the early 1950s. Until his book, there had not been any serious studies of the use of color in films. Higgins offers a new vocabulary to discuss color and a method of analysis for tracking, explaining, and understanding how filmmakers manipulate color in motion pictures.
Through careful examination of landmark feature films such as Becky Sharp, The Trail of the Lonesome Pine, A Star is Born, The Adventures of Robin Hood, and Gone with the Wind, Higgins traces how filmmakers and designers were able to control color so that it could be used naturally and effectively to tell stories. By the time Gone With the Wind was made in 1939, Technicolor had introduced a new film stock that allowed the filmmakers to produce a higher cooperation between the color and the tonal elements of light and shadow. According to Higgins, the film became "an audacious experiment in color cinema."
"By pushing the process's limits for handling low-key lighting and by exploiting new possibilities of precise facial modeling, the cinematographers of Gone With the Wind helped close the distance between monochrome and Technicolor style," Higgins writes. "At the same time, they manipulated color temperature and employed colored lighting to fundamentally extend color's expressive reach."
To research his book, Higgins watched archival prints, explored the historical files of the Technicolor Corporation and the papers of David O. Selznick, Gone with the Wind producer, and and interviewed those who worked with the Technicolor company. He learned that Technicolor is not necessarily the garish color usually associated with its name but rather an elegant art of details.
"You appreciate the intentionality behind the design of these Technicolor films—every setting, every costume, every prop was carefully chosen, selected, and framed for a particular look," Higgins says. "After watching these films on the big screen, you appreciate that feeling of everything being intentional, determined, and carefully controlled."
In fact, Natalie Kalmus, the head of the Color Advisory Service (the Technicolor color-control department), and her crew of consultants would set up a color score of each picture before it went into production. If a filmmaker wanted to make a film in color, he submitted the script to Technicolor. The color advisers would go through it and make a chart of colors that would best suit the narrative and what they thought were the storytelling demands. After they had their color chart with fabric swatches and a big book of color chips, the advisers would approach the film's costume designer, who was the first person to set the color key for the entire film. Kalmus and her crew of consultants continued to work on the color design of every major studio Technicolor production from the 1930s through the 1950s.
The concluding chapter of Higgins' book discusses the legacy of three-color aesthetics and considers the advent of digital color in recent films. For example, when he sought to recreate the look of Technicolor in his biopic The Aviator, director Martin Scorsese and his cinematographer needed to use cutting-edge digital technology. Higgins finds the use of digital technology to be an exciting time for color, perhaps on par with the change from black-and-white to color cinematography in the 1930s.
In a recent review of Higgins' book in American Cinematographer Magazine, Jim Hemphill writes: "The value of Harnessing the Technicolor Rainbow is that it serves as both a broad historical overview of a format and as an incisive analysis of how color works in specific films . . . Higgins' ability to divide a movie's color design into its various components and explain what the colors mean intellectually, emotionally and technically is truly impressive, and his analyses are so thorough that they make one realize just how neglected the role of color is in most film scholarship."
Beyond The Wizard of Oz and Gone With the Wind:
Scott Higgins' Top Ten Technicolor Films (in chronological order)
The Trail of the Lonesome Pine
(1936, dir. Henry Hathaway)
The first real masterpiece of dramatic color control.
Bring this to DVD!
The Adventures of Robin Hood
(1938, dir. Michael Curtiz, William Keighley)
The first and best Technicolor adventure.
Blood and Sand
(1941, dir. Rouben Mamoulian)
Beautiful people in beautiful settings,
under beautiful light.
The Gang's All Here
(1943, dir. Busby Berkeley)
Technicolor at hysterical, hallucinogenic heights.
Cobra Woman
(1944, dir. Robert Siodmak)
A triumph of backlot volcanoes, snake dancing,
and Maria Montez as good and evil twins!
Meet Me in St. Louis
(1944, dir. Vincente Minnelli)
Sumptuous design, with every color in
its right place.
Leave Her to Heaven
(1945, dir. John Stahl)
Technicolor noir, proves that dark cinema need not be black and white.
Black Narcissus
(1947, dir. Michael Powell, Emeric Pressburger)
The last reel is a ballet of color and light.
The Quiet Man
(1952, dir. John Ford)
John Ford could do anything, including masterful color design.
Written on the Wind
(1956, dir. Douglas Sirk)
In Sirk's world, color isn't just sexy, color is sex.
By David Low '76