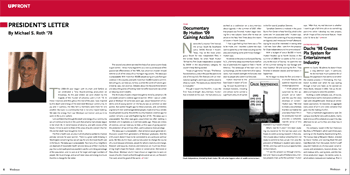 Next to the Sundance Film Festival, the annual South By Southwest (a.k.a. SXSW) festival in Austin, Texas, may be the most prestigious forum for new independent films in the United States. So when Noah Hutton '09 had his film Crude Independence accepted by SXSW in the documentary category, he couldn't help feeling excited.
"It was a huge honor," he says. "The festival has evolved so quickly in the past few years to be one of the top U.S. film festivals with an international spotlight, and it was a perfect place to show our work. The exposure you receive there is invaluable."
Though it wasn't his first film, it was the first feature-length documentary Hutton had directed on his own. He had previously worked as a codirector on a documentary about Uganda in the summer of 2007. After that project was finished, Hutton began looking for a new subject. Soon after he read an article in the New York Times about the recent oil boom in North Dakota.
"I had a gut feeling that there was a film to be made, and I boarded a plane two days later to spend my winter break scouting out the area and shooting some preliminary footage," Hutton says.
He settled on the area in and around Stanley, N.D., a formerly sleepy town that found itself on top of potentially the largest oil field in North America. The landscape of the town and its surroundings, and the investment of oil speculators, had created overnight millionaires next door to people who weren't so fortunate.
Hutton returned to the East Coast in search of funding. He soon found three individual investors, including one whose name carried a significant amount of cachet in the film world: Jonathan Demme.
"Jonathan Demme is involved in the Jacob Burns Film Center in New York City, which is the same one I'm associated with," Hutton says. "He came to the screening of my documentary on Uganda and introduced himself afterward, saying he would be interested in seeing what I did next. Soon after, I sent him the proposal for Crude Independence and he came onboard."
With a budget of about $6,000 in hand, Hutton headed up to North Dakota in the summer of 2008 for six weeks to film in and around the town of Stanley. He spent the rest of the summer editing his raw footage with Alex Footman '09 and scoring the film. They finished in between classes and homework in September.
As he began to show the film and enter it in smaller festivals, the audience response was increasingly positive.
"I think people are surprised by the approach we've taken and the way the story develops on screen," Hutton says. "We tried to make a documentary that feels somewhat like a narrative fiction film in its construction but still provides a complete, real-life sense of this moment in our nation's history."
What's next for Hutton? He's been studying neuroscience for the last two years and hopes to continue doing research in that area. He's mused about medical school but he's not ready to commit to that just yet. He's also the president of Wesleyan's student radio station, WESU, and may want to pursue opportunities in that medium.
"I'll see this project out through distribution and I have a couple of freelance documentary projects lined up for the summer," Hutton says. "After that, my real decision is whether I want to get a full-time job or do something part-time while I develop my next project, which I hope will be a narrative feature. I have a lot I'd like to do."