Envisioning Environmental Change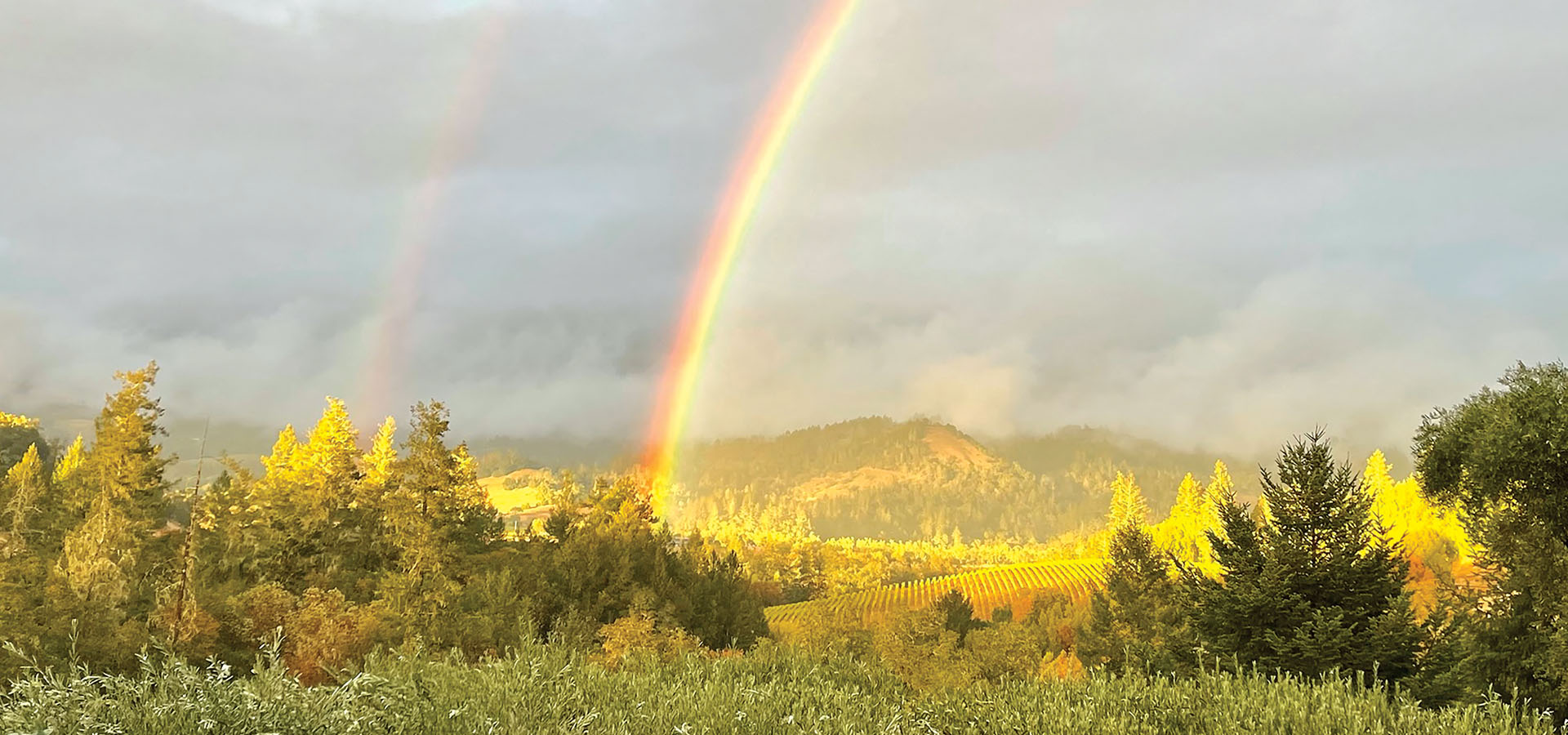 Throughout 43 years of marriage, Essel '66 and Menakka Bailey have been partners in life and in philanthropy, championing education access, water conservation, and the arts. Now, they're helping set a sustainable path toward interdisciplinary problem-solving in the College of the Environment.
When Essel Bailey '66 was an undergraduate at Wesleyan in the 1960s, the University was a very different place. It had three colleges, rather than the current 16 colleges and centers. The student body was half the size it is today. All of the students were male and most were in fraternities, the prime residential setting. But even then, just as it does today, Wesleyan offered an opportunity to expand students' experiences while encouraging them to think of life more broadly.
"Wesleyan afforded me the opportunity to view the world beyond the Midwest and to see something of the world," said Bailey, who grew up in the suburbs outside Detroit, where his mother taught kindergarten and his father farmed sod and other crops. Bailey would continue on to law school at the University of Michigan (UM), eventually creating a thriving career in law, business, and capital finance of the long-term care industry. While rising in stature in the business world and building upon his educational opportunities, he never lost sight of his love for the land and the undeniable pull of the natural world. "For anyone who has traveled and visited other parts of the world," Bailey says, "you see a beauty in nature, and it breeds a sensitivity to environmental issues that inevitably raises questions about how we approach nature and conservation."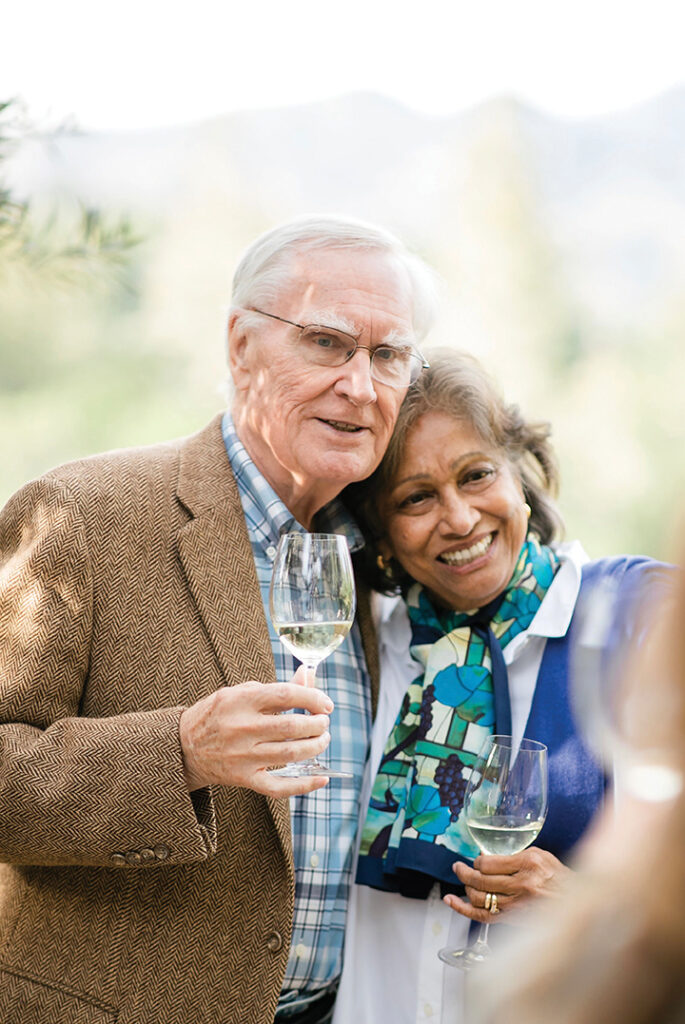 Side-by-side with him in this mission is Menakka Bailey, née Weerasinghe, who was born in Sri Lanka and moved to the United States at age 11, when her father came to work at the United Nations as a city planner and architect. After attending Bryn Mawr College, Menakka went on to earn a master's degree in social anthropology and a master's in public health in population studies. Despite vastly different backgrounds, both Essel and Menakka came from families that valued education highly as a means to a fulfilling, productive life. When they first met, she was working at UM and he was a lawyer at a Detroit firm.
Together they have been steadfast and generous in helping connect underprivileged students to opportunities, undergirded by a deep, shared belief in the value of education, conservation, sustainability, and the arts. Most recently the Baileys have made a gift that will transition the College of the Environment (COE) into updated quarters in a renovated Shanklin Hall, expand student funding, and support faculty outreach in environmental studies. When Shanklin reopens in 2027 as Wesleyan's flagship science building after a full internal renovation, two floors will be dedicated to the COE, with increased space for both faculty and student groups, dedicated areas for seniors working on capstone projects, and deliberately open sightlines to increase safety for students who remain in the building until late. 
"We'll have this classic outside and a very forward-looking inside to the building," said Professor Barry Chernoff, founder and director of the COE. "We pay homage to the past, but the College of the Environment is about looking forward and being nimble."
In Chernoff, the Baileys found not only a knowledgeable and equally committed partner in their numerous and varied conservation and philanthropic efforts, but also a visionary who understands the value of a multipronged collaborative approach to thinking more globally and effecting change for the future.
"The most significant challenges we face today are environmental," Essel says. "Barry's vision for the COE is very similar to ours: a place committed to advancing research, encouraging collaboration between the arts—music, dance, drama—and how they relate to the environment in which we live, educating future leaders, and developing equitable environmental policies."
Underlining the global impacts, Menakka adds, "These problems are not limited to regions or countries; it's all linked."
Besides funding the COE's new physical space, the Baileys also underwrite students' research projects under faculty mentors, and they have endowed the College's think tank, which supports interdisciplinary faculty work on environmental issues. One recent member of the think tank during the 2020–21 academic year was Mary-Jane Rubenstein, professor of religion and Science in Society. The interdisciplinary work she did as part of the think tank helped jumpstart her book, Astrotopia: The Dangerous Religion of the Corporate Space Race, which she published in fall 2022 into a news cycle thick with talk of billionaires launching rockets.
"I was part of a COE contingent that ended up focusing on the theme of habitability around the idea of space exploration and the idea of colonization of other planetary bodies," Rubenstein said. "Talking about this theme so intensely for the year and also having an opportunity to teach a class on that topic—Colonizing Space—let me produce a ton of writing and, when I got to put it all into a book, to do it very quickly."
Expanding the idea of the interdisciplinary potential of environmental concerns—and providing space to examine vital issues in a timely manner—is just one way that the COE, with the Baileys' support, strives for creative solutions to the world's most challenging issues.
"Essel and Menakka have been superb partners in our efforts to develop the COE, increase educational experiences for our students, and make a difference in the world," says Chernoff. "We share a common vision of working towards a world that is environmentally just, where people are food secure, and where we can protect the critical resources of the planet. It is the students who are the future and they need educational experiences in the classroom and also out in the world where they can learn how to develop solutions to environmental problems."
The College of the Environment (COE)
The wellbeing of our ecosystems. How we use dwindling natural resources. Charting a better future for humanity on Earth. All hinge on our understanding of the environment around us, and none fits neatly within a single academic sphere.
Created in 2009, the College of the Environment (COE) strives to change the world by developing a long-term vision of human and ecosystem health through an interdisciplinary lens, one that addresses the urgent challenges facing current and future generations. In COE courses like Ecological Design, Food Security and Environmental Conservation, and Animal Law and Policy, students learn to discuss environmental issues from a variety of perspectives while finding connections to larger social and political issues. COE fellowships—endowed by individuals and families like the Baileys—are available for undergraduate students to research environmental topics or pursue projects on campus or abroad; in the past, students who received COE-supported fellowships have worked on organic farms in California, researched the economics of carbon tax with Wesleyan faculty, and organized an environmental justice art project in Costa Rica.
To foster deeper understanding and conversations around critical environmental issues with the campus community, the COE hosts a two-semester think tank each year with a group of three Wesleyan faculty members, a prominent scholar from outside the University, and a small group of undergraduate students. The focus of the think tank changes every year: the theme for 2022-23 is "Radical Environments," featuring faculty fellows Raquel Bryant, assistant professor of environmental sciences; Marguerite Nguyen, associate professor of English; and Anu (Aradhana) Sharma, associate professor of anthropology. Beyond encouraging discipline-crossing discourse between everyone from economists to choreographers, the think tank also offers year-long faculty and student fellowships to support scholarly research, publications, and performances.