Driving Force: Scott Michaud '86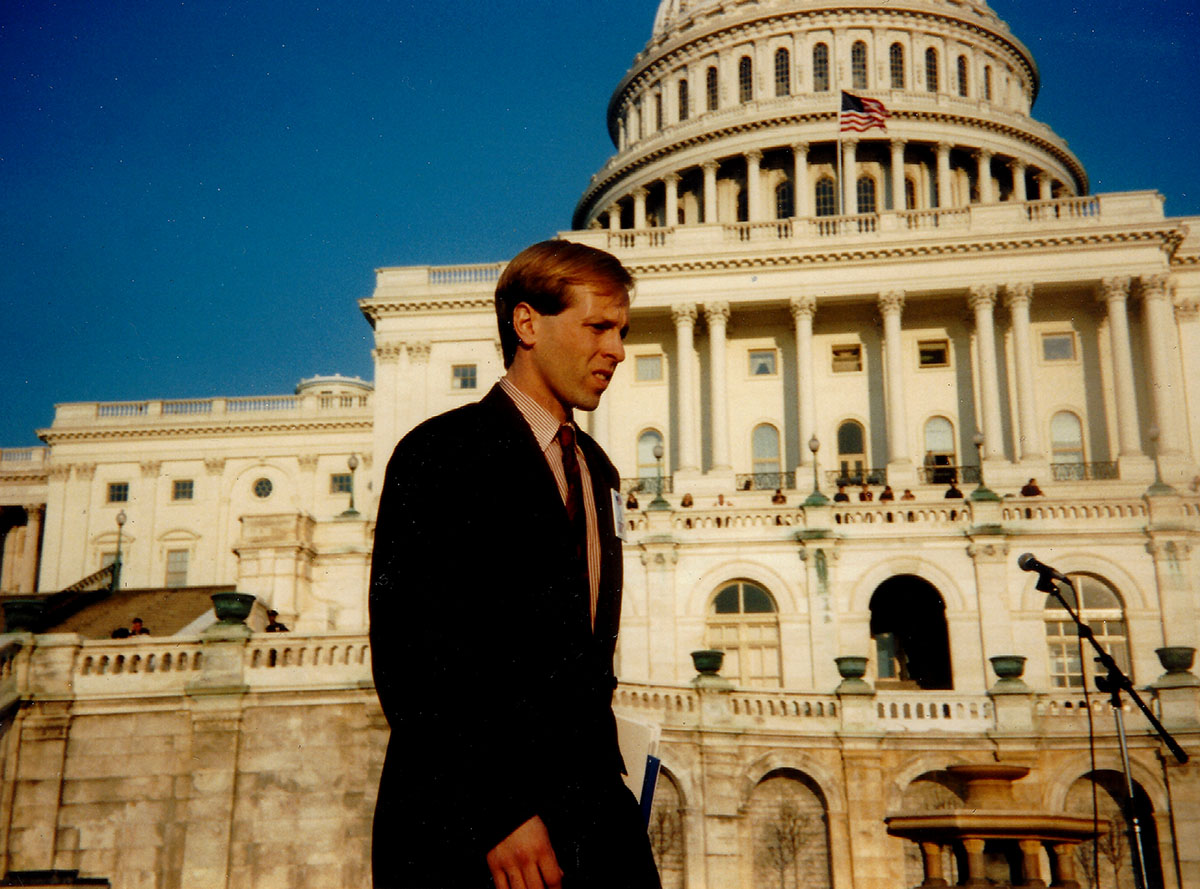 Lately, Scott Michaud '86 has been contemplating a litany of out-of-this-world questions. How do law-abiding nations behave in space? What do international space treaties look like? How is unclaimed airspace, akin to international waters, governed?
These aren't thought experiments. Michaud—senior speechwriter for the Chief of Space Operations at the United States Space Force, the military branch established in 2019 to address defense and security issues in the heavens—is literally writing the rule book for space. "Space has gone from an exclusive club to a club that almost anyone can join," Michaud said. "Now anyone can put a satellite up, including kids in schools. You have space all of a sudden being a community that probably needs rules. We have rules of the sea. We don't really have agreed-upon rules of space."
An accomplished government speechwriter, Michaud has been the public voice behind major national policy shifts and initiatives throughout his career at agencies like the Office of the Director of National Intelligence and the Special Inspector General for Iraq Reconstruction. The roles have found him involved in everything from working with top-secret government information to crafting the reports Congress cited in public hearings on the use of taxpayer funds for post-war reconstruction. Whether the subject is on the ground or in outer space, it's a job Michaud speaks about more as a calling—one that helps government agency employees understand the importance of their work and that helps educate the public on the agency's impacts on their daily existence.
"People sometimes look at speechwriters as just people who spin the news to try and influence people in a way that's not necessarily in their own best interest. That's not what I try to do," he said. "I'm an advocate both for the audience and for the speaker. I help people talk about complicated issues, and I help the audience understand complicated issues because it's in their best interest to better understand."
But a career spent crafting speeches for generals, cabinet officials, and other folks with high-level security clearances, pursued with passion and a strong sense of public duty, didn't begin as a foregone conclusion. Raised in Maine and New Haven, Connecticut, Michaud came to Wesleyan on a generous scholarship, where he majored in psychology—this study of "how people work and why they make the decisions they make," as well as mind-brain theory and social psychology, became invaluable to his later career—and became an avid player on the school's original ultimate frisbee team. In time, Michaud developed a fondness for wordplay. "He couldn't resist a good turn of phrase," said Susannah Goodman '87, a friend Michaud met while living in the Out House, the cheekily-named special interest housing devoted to outdoor excursions. "He's a word person's word person."
A work-study job in the school's public affairs department is his professional origin story. "That really is the writing education that has served me best over the course of the years," he said. "I was writing materials for whatever public affairs needed; it taught me short, clear, concise writing."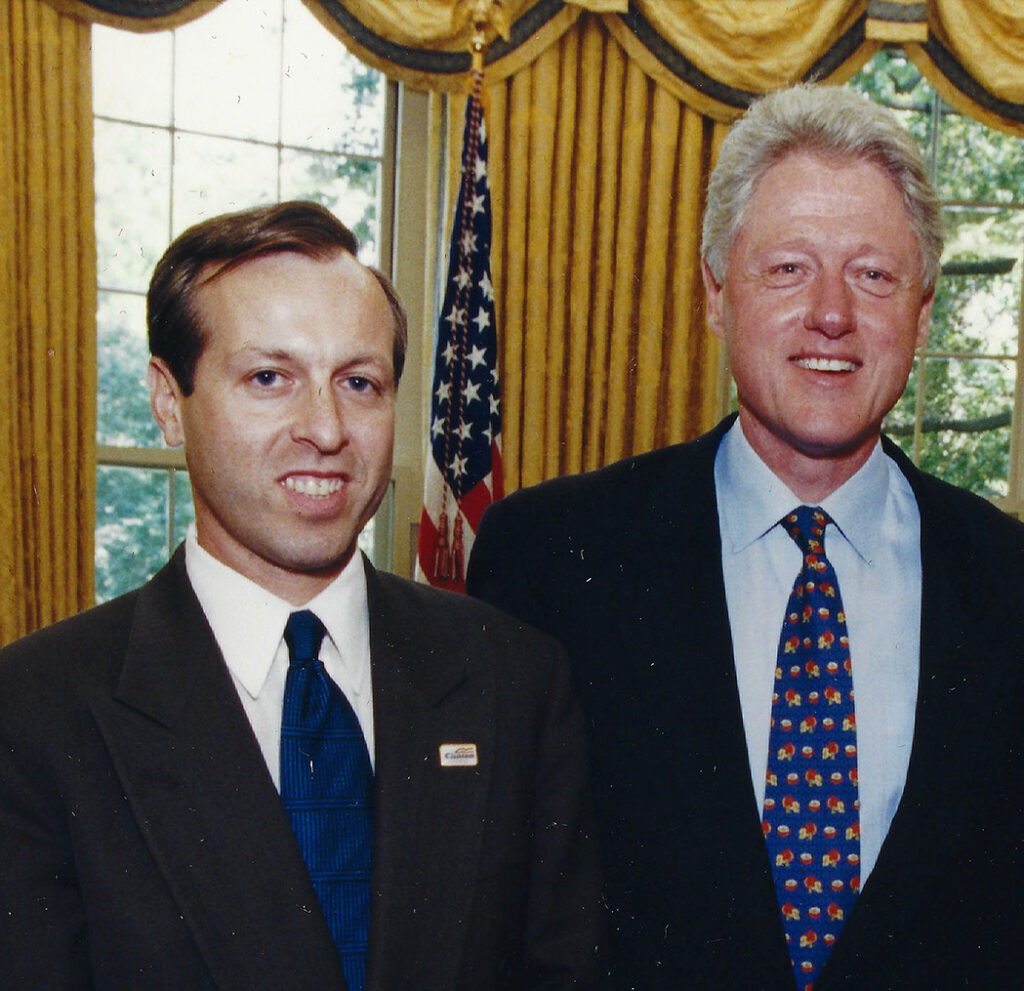 Post-graduation, Michaud parlayed those experiences into a job managing correspondence for the New York State Assembly Speaker. Then he jumped to Bill Clinton's first presidential campaign which, when Clinton won, became an Oval Office gig that included writing constituent response letters then signed by the President—further training in channeling a prominent voice to convey specific messaging. "I've always enjoyed the thoughtfulness that goes into a turn of phrase or writing a paragraph or a story," he said. "I have a gift for writing for the ear as opposed to writing for the eye."
He remained at the White House until deciding that speechwriting was what he wanted to pursue. "Nobody wants to hire a speechwriter who has never done it before," he said. "It's hard to get a foot in the door." He convinced then-Office of Personnel Management Director Janice Lachance, a fellow Maine native, to give a rookie a shot. Lachance's gamble allowed him to put his natural talent, honed at Wesleyan, into practice.
In 2002, in the aftermath of the 9/11 attacks, Michaud penned a speech for the Postmaster General urging the public to use commemorative stamps within a larger message about the endurance of the American spirit. Then, when he worked for the Special Inspector General for Iraq Reconstruction, tasked with scrutinizing public funds spent rebuilding post-war Iraq, Michaud penned quarterly reports to Congress used in subsequent public hearings held by lawmakers.
Though Michaud has spent portions of his career speechwriting in the corporate sector, including positions at Walmart and Booz Allen, he is always ultimately drawn back toward government work. "To write a speech to the shareholders is not nearly as rewarding as to write a speech to the American public," he said.
Now at the Space Force, where he started working in April, he is crafting the narratives that will shape the nation's understanding of laws and security in outer space. It's a challenge that excited him enough to leave his intelligence role, which entailed working with top-secret information daily. Working with the agency's top generals and a cast of servicemen and women—he is one of the only civilians in his office—Michaud has the unprecedented opportunity to narrate from the epicenter of a domain that, from war gamers to rocket-launching billionaires, is increasingly drawing interest. Now, he brings the skills he's cultivated throughout his career into uncharted territory.
"This is real storytelling; this is shaping the culture of a new organization and figuring out how to talk to a brand-new workforce," Michaud said. "It's humbling. It's a responsibility to make sure you get things right."
By Kira Goldenberg