Q & A: One of Hollywood's Top Agents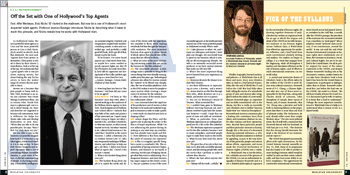 In Hollywood today, the most powerful talent agency is CAA and the most powerful person at CAA is Rick Nicita. (Rick would modestly duck that statement. He once said, "Agents don't have power in themselves. Their power is ceded to them by their clients.") Nevertheless, Rick is at the top of the top. He understands that a good agent's role is not just about making money, but about finding the way for his artists to have the widest range of creative choices available to them.
Movies are a business that puts people in boxes with labels: Clint Eastwood is an actor, not a director. Tom Cruise belongs in adventure films, not in serious roles. Nicole Kidman is a glamour girl, not a rival to Meryl Streep, etc. Stars and directors are supposed to become safe investments. Rick is different. He helps his clients take risks and develop themselves in new ways. "When they are able to do any possible part," he says, "then I feel I've truly done my job."
No one who is not in the business can possibly imagine how hard it is to become a top talent agent, or how much harder it is to stay on top. To have Rick Nicita's longevity and superb reputation takes a list of astonishing abilities. Incredible stamina. A great sense of humor. A shrewd understanding of people. A charming personality. A formidable intelligence. An ironclad integrity. Creativity and imagination coupled with numbercrunching smarts. A calm and controlled ego. And probably a really good left hook. Rick's got all of that, except maybe the hook.
To be honest, I've never heard anyone say a bad word about him, so maybe he's never needed to punch anyone's lights out. But I'll bet if he had to, he could. More likely, he'd talk his opponent into having lunch at The Grille and then sign him up as a new client for CAA.
—Jeanine Basinger, Corwin-Fuller Professor of Film Studies
Q: How long have you been in "the business," and how did you come to be an agent?
RICK NICITA: I've been in "the business" since May 1968, when I started working in the mailroom of the William Morris Agency in New York. I had dropped out of Fordham Law School when I realized that very little of the study and practice of law interested me. I spent many weeks trying to figure out what I wanted to do…not what I should do, or what was easiest, or what society wanted me to do, but what I wanted to do. I always loved movies so I decided that I would be in the movie business. I called a fraternity (Psi U) brother, Robert Levy '67, who was temporarily working at William Morris, and asked him to help me get a job there. I didn't even know what an agent did. I loved it the minute I started.
Q: What is the hardest thing about your job?
RN: The hardest thing about my job is to match the needs and desires of the clients with the opportunities available to them, while making everybody feel that they got the best possible resolution. The most important function of an agent is to advise clients of which option they should take of the many that are offered to them.
Q: What are some of the more interesting and exciting trends that you see on the horizon in the film industry?
RN: The remarkable advances in technology make it possible to bring to the screen things that were literally unimaginable just a few years ago. Technological advances also allow for movies outside the "system" to be filmed very cheaply. Also, the rise of ancillary platforms such as the DVD makes it easier for people to enjoy movies while creating a major source of revenue for the industry.
Q: What are some of the trends you're less enthusiastic about?
RN: I am concerned about the rapid rise of the production cost of movies so that they have to be made and marketed to appeal to everyone in order to make a profit.
Q: How much of a hand do you have in shaping a film?
RN: Artists shape the films, and the agent's role in placing the artists in the film is of major importance. While I'm not influencing the picture during its making in any overt way, my contribution has already been made and felt.
Q: How different is this from shaping the career of someone you represent?
RN: A film is a singular, specific thing, but a career is somebody's life. The responsibility of having someone's hopes, dreams, and finances in my hands is sobering, but the joys of helping clients get what they want is exhilarating. It's a dangerous business, and every decision has major impact on the client's career.
Q: You are a partner in one of the most successful agencies in the world and were named one of the most powerful people in Hollywood recently. What's next?
RN: I take pleasure in what I do, and I enjoy my colleagues and clients. I don't plan any changes. My non-family time is spent on my business, which is actually an all-encompassing lifestyle. My wife is an extremely successful movie producer, so we have mutual interests that make our life very full.
Q: What's the most important thing you've learned from your experience as an agent?
RN: Everyone deserves the chance to realize their dreams.
Q: Are there differences in representing an actor, a director, and a writer?
RN: Actors tend to see the film through their roles, while directors see it as a whole, and writers see it in pieces.
Q: You are on Wesleyan's Board of Trustees. What motivated this? RN:
RN:I couldn't have gone to Wesleyan without receiving financial aid, and I always resolved to pay back the institution however I could. I hope that my point of view and skill set contribute.
Q: What, in particular, from your Wesleyan experience as an undergrad prepared you for a life in the film industry?
RN: The Wesleyan experience prepared me for the film industry because I met so many outspoken, motivated people eager to make their mark on the world.
Q: What do you find most fun about your job?
RN: The great fun of my job is that it allows me to deal with incredibly talented, smart, and fascinating people who need the service that I perform in order to achieve their dreams.
Q: What's the best advice anyone ever gave you?
RN: "Always tell the truth…artfully."