DARCY DENNET '92 PRODUCES SHOW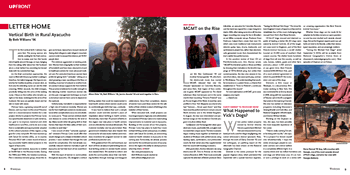 When police raided property owned by former Atlanta Falcons quarterback Michael Vick and discovered traumatized pit bulls used for illegal dogfighting, the nation witnessed a dismal spectacle. Now, through the work of Darcy Dennett '92 and her colleagues, an uplifting report on the aftermath has been shown on the National Geographic Channel.
Dennett is the series producer for the popular Dogtown show, which premiered this September with a special two-hour segment, "Saving the Michael Vick Dogs." The show follows Dogtown's team of experts as they work to rehabilitate four of the most challenging dogs rescued from Vick's Bad Newz Kennels.
Of the 47 dogs rescued and deemed capable of leading a better life (53 dogs were seized by Animal Control), 22 of the toughest cases went to Dogtown, part of the Best Friends Animal Sanctuary, a no-kill shelter located on 33,000 acres of southern Utah canyon country. The shelter hosts hundreds of dogs from all over the country, as well as cats, horses, rabbits, goats and other farm animals—about 1,500 animals at any given time. Best Friends received $389,000 from Vick, part of a court-ordered agreement in which he paid $928,073 for evaluation and care of the dogs.
Dennett, a film major at Wesleyan, is a documentary filmmaker working in New York. She was nominated for an Emmy Award in 2000, along with her coproducers of Trauma: Life in the ER, a program that aired on the Learning Channel. She also has worked on television programs including Discovery's Sensing Murder and Code Blue, and National Geographic's World's Apart, and Doctors Without Borders.
Working on the Dogtown series, she says, has been possibly the most enjoyable experience of her career.
"There's really nothing I'd rather be doing with my life," she says. "It's a project I've thrown myself into wholeheartedly. I hope the series encourages people to consider animals and animal welfare in a completely different light. In a country where over six million homeless cats and dogs are killed every year, it's an honor and a privilege to work on a series with an amazing organization like Best Friends Animal Sanctuary."
Whether these dogs can be made fit for adoption by families remains an open question; no one has ever studied such severely abused dogs. But as the Dogtown experts point out, pit bulls are bred to be friendly, unlike their stereotyped reputation, and are amazingly resilient.
"Saving the Michael Vick Dogs" aired September 5; DVDs will be available from National Geographic's Online Store at shopsearch.nationalgeographic.com/. New episodes of Dogtown air on Fridays.