"There's No Place Like Home": Jeanine Basinger and Lea Carlson
If you want to know how the College of Film and the Moving Image functions on a day-to-day basis, talk with Lea Carlson.
Most likely, if you've spoken with Jeanine Basinger, you've also spoken with Lea Carlson because the two work closely together on a day-to-day basis. Now the associate director of the College of Film and the Moving Image (composed of the Film Studies Department, Center for Film Studies, Cinema Archives, and Wesleyan Film Series), Carlson arrived at Wesleyan almost 20 years ago, applying for the position of administrative assistant to Jeanine Basinger.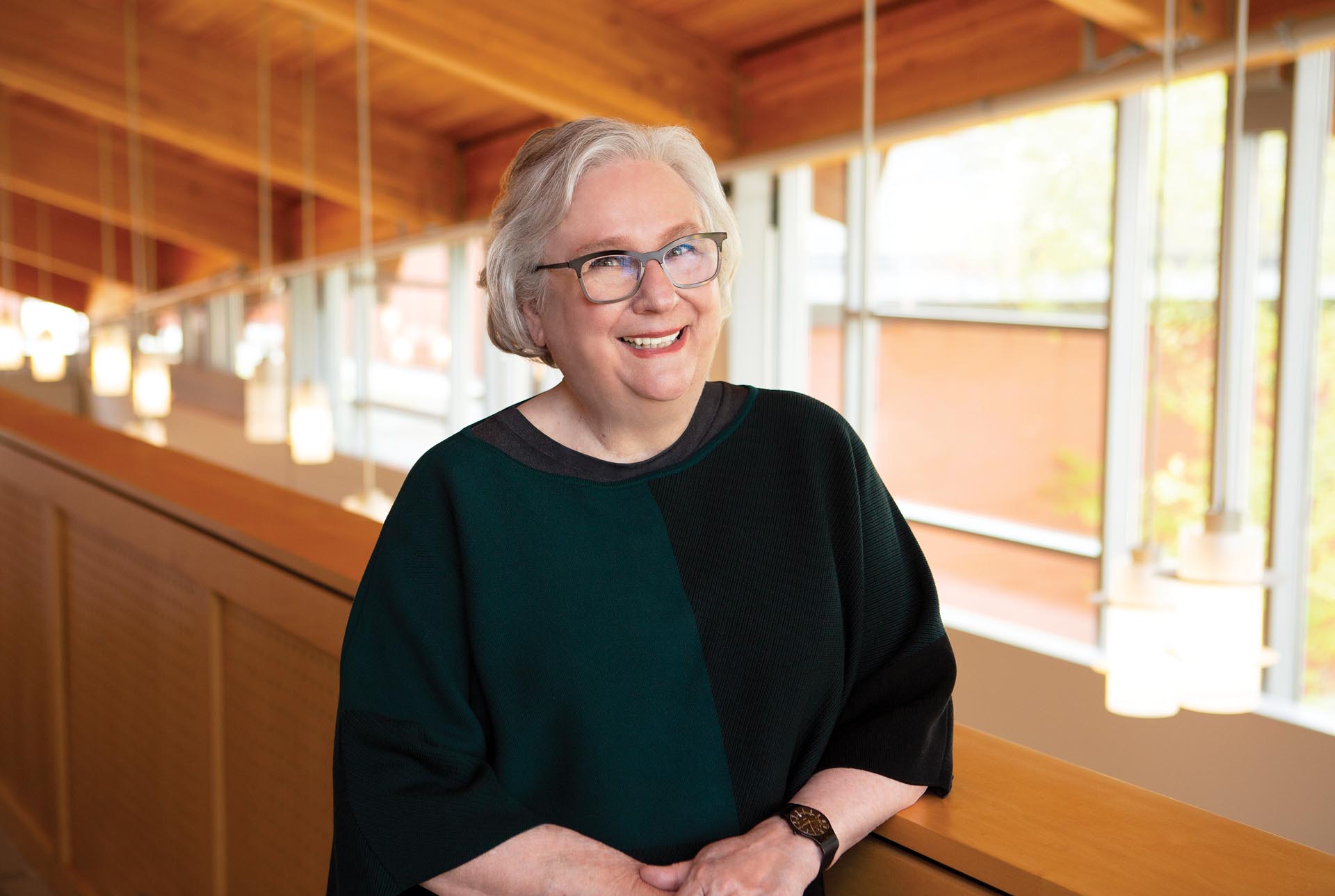 Now with the longstanding insider's knowledge of both the College and its founder, one of Carlson's myriad duties—along with student support and financial concerns, as well as other complicated responsibilities that make up daily operations of this institution—is to provide a smooth track to Basinger for those seeking an appointment or meeting. Carlson helps to maximize the time allotted for Basinger to accomplish her own goals with brilliance and panache: to teach and mentor students and to talk and write about film.
Carlson remembers her own initial meeting with Basinger with great fondness. It set the tone for the almost two decades that would follow. One of the interesting qualities in CFILM is the informality between the faculty, staff, and students, who all call each other by their first names.
"Jeanine had sprained her ankle but she came over for my interview anyway, and we hit it off," recalls Carlson. "We just talked. The interview felt like a conversation between friends. Afterward, I called my husband. 'I feel like I just came home,' I told him."
A week later, Carlson was offered the job that would become, in many ways, a second home.
One of Carlson's first assignments was to write the administrative report to upgrade the Film Studies program to a department. "I had no history here, didn't know what I was even looking for," she recalls. "But Scott Higgins, a young father back then, came in with his son, Jack, in a baby carrier and helped me go through the material we needed to include."
Called over to join Basinger for office hours in the Center for the Arts building, Carlson remembers the collegial support from undergrads as well. "I got there and the whole hallway was lined with students. I asked them, 'Where's the end of the line?' I told them I was the new hire. 'Oh, Lea! You don't wait in line. You go right in!' they told me."
That sense of camaraderie was a constant, as was Basinger's commitment to hear everyone's voice. "As head of the department, Jeanine obviously had her vision, and the final decisions would be hers, but she always included you in the discussions," Carlson observes. "Even doing an event with student staff, we'd all be sitting around the table talking about it. 'You're the kids who are going to be working the events, so here's what's going on,' we'd tell them.
"And when we hire our student staff, we always say, 'Treat this as if it were your home. When people come to an event, you want them to feel just like they would if they came to your house.' And that all stems back to the way Jeanine has always treated all of us. Right from the first day you're hired, or the first day you meet her, or the first day you're her student, she makes everybody feel important and part of the whole picture."
However, ask Carlson for the bloopers, the outtakes, the moments when it was all going to fall apart, and she'll share a few: The sound system failing in the middle of a film with a full house; the missing index cards that a high-profile speaker had requested for his speech; the performance that unexpectedly required an additional PA system to project voices over a concurrent film.
"And there's not a blink of an eye," Carlson marvels. "Our students don't hesitate; they think outside the box. Their attitude is: I'm here and you need this and I can help you."
When the film's sound failed, Scott Higgins and two other professors managed to hold the wires together in such a way that the sound continued to play, even though one of the trio had lie on the back-room floor at all times. When the speaker's cards went missing, they were procured by two students who made a dash to Staples. And the performance was saved by a film studies student who borrowed his music-major-roommate's portable amplifier.
But underneath each example, "Jeanine is really the magic," notes Carlson. "She is the reason people do whatever it takes behind the scenes to make everything work."
"It's that sense of, Oh, we're a team, we're a family. When we're out flat, when we're here 12-, 15-hour days for events all weekend, there's always someone who will say, 'I can see that you need help. You're putting together 20 cookie trays? We'll come in and help you.' And we always have fun doing it. Ultimately, that is Jeanine's gift to all of us."