On Retirement: Reflections on 30 Years at Wesleyan
I have had the best job in the world since 1989, when I joined the staff at Wesleyan's Office of Public Information (now University Communications). Editing the Class Notes section of this magazine was an immersion experience into the community: a creative, curious, fearless, generous, intellectual, intense, kind, off-beat, passionate, serious, vibrant, witty, and committed group of individuals.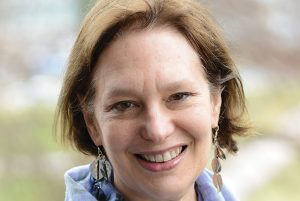 Fast forward (or so it seems) and for three decades now, I've had the privilege of listening to the Wesleyan community, writing these stories from my perch in South College. There, in the spring, we would open the door to our fire escape, the better to hear the ping of baseball bats connecting with pitches on Dresser Diamond. In May, red robes and proud relatives filled Andrus Field and cheers for the graduates echoed off Memorial Chapel, Olin Library, and Fayerweather. In summer, always, the campus exhaled, awaiting the intake of energy that would begin the next academic year.
Spending 30 years at a single institution has been an opportunity to sense a span of history longer than my own. When I began, Earle W. Parsons, Class of 1919, was the eldest class secretary. Now, Justin Campos, Class of 2019, is our youngest. The magazine has held a century of alumni in my time on its masthead.
That history is what friends are seeking when they ask me: Has Wesleyan changed? I think it's also what we are mourning in these days when continuity is disrupted by COVID-19. With a silent campus, a whole new virtual learning experience ahead, and a virus that threatens to turn a handshake into a death wish, the ominous uncertainty is reminiscent of the days, weeks, and months that followed 9/11.
What I saw then, though, was that Wesleyan's core strength—a community of generous learners gifted with intellect, curiosity, and creativity—
endures. At Commencement one year, the senior class president had offered this characterization of their soon-to-be alma mater:
"Question: How many Wesleyan students does it take to change a lightbulb? Answer: Why do we need a lightbulb? Why don't we knock out the ceiling for a skylight?"
Lighthearted, yes, and delightfully accurate. When others go looking to replace the burnt-out 100 watts, our Wesleyans are already up on the roof, sawing out their window to the sun. In 2001, fireman Nick Malter '87 prepared for new ways to protect his community; WNYC president Laura Walker '79, P'22 provided information for a changed world over the airwaves; and attorney Kofi Appenteng '81, P'07 helped colleagues rebuild normalcy for a devastated law firm that had previously occupied offices in Tower Two.
I'm thinking of these folks, along with every "skylight builder" I've interviewed. You've all offered me your wisdom, inspiration, and humor (I recall lots of laughter). The essential Wesleyan quality—that relentless urge to rethink and reshape the status quo for something better—will not fade, whether this community is gathered on campus, grouped in virtual classrooms, or helping an injured city heal.
Finally, I am grateful to our student interns, who brought spunk, talent, and their ardent work ethic into our office; to everyone who shared their stories of courage and brilliance; to professors who opened their classes to me; and to my colleagues. All of you were inspiring mentors. To the ongoing team—Editor Christian Camerota and colleagues you see on the masthead—I admire you deeply; you are already bringing this magazine to ever greater heights. I will be reading Wesleyan with pride for having shared time in South College writing about some of Wesleyan's finest.
A FEW OF MY FAVORITE SKYLIGHT BUILDERS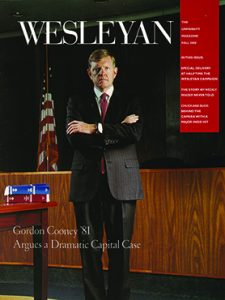 "The Death Penalty: Fatally Flawed?" When Gordon Cooney '81 and three of his colleagues in a prestigious law firm took on a pro-bono death penalty case, they began by questioning all "facts," and discovered prosecutorial misconduct: hidden exculpatory blood evidence. The New Yorker Radio Hour did a podcast on the case and won the Third Coast/Richard H. Dreihaus Foundation Competition Best Documentary Bronze Award at the Third Coast International Audio Festival.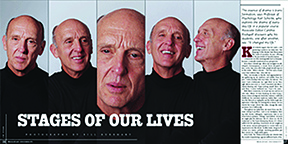 "Stages of our Lives; Professor of Psychology Karl Scheibe" I asked Professor Scheibe if I could attend his class, fly-on-the-wall style. He invited me to join this uniquely Wesleyan class as a full-fledged member and it was transformative. I still refer to his book, The Drama of Everyday Life, when I need to gain a fresh perspective.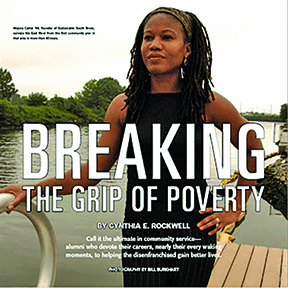 "Breaking the Grip of Poverty" I visited Majora Carter '88 in the Bronx and Alwyn Cohall '76, MD in Washington Heights to learn about their work. Carter spearheaded creation of the first riverside park in the South Bronx in more than 60 years. Cohall, a school-based physician in the late '80s and founder and director of Services to Assist Youth (STAY), created the health care framework that his adolescent HIV-positive patients needed.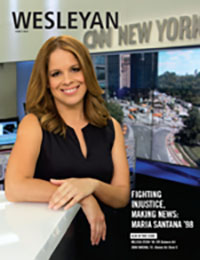 "Fighting Injustice; Making News" CNN en Español correspondent Maria Santana '98 says, "[R]ather than just telling a story and . . . doing whatever gets the ratings, I want to know: How can I really help people with the position that I have?" That single question is her focus; answering it for each story is her mission.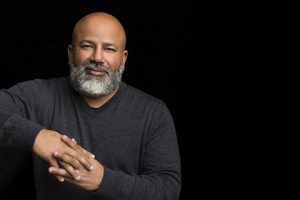 "Healthcare and Racism: A Toxic Mix" In his book, Blood Sugar: Racial Pharmacology and Food Justice in Black America, Professor Anthony Hatch asks his readers to shift their focus from the biology of "race" as a determinant of metabolic syndrome (a cluster of symptoms that include elevated blood sugar) to the politics of racism and class inequalities as key factors in disease development.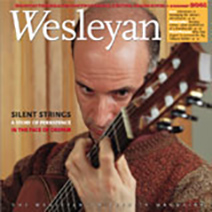 "Musician, Heal Thyself" Musician and composer David Leisner '75 was at a high point in career, with the critically acclaimed Nonesuch Records talking about a contract. Then, inexplicably, his fingers started curling into his palm whenever he put his hands to the guitar string. "Without pain, you can't pinpoint the source of an ailment," he recalled. "People would tell me to relax, that it was all in my head. . . . I knew it was physical but couldn't prove it." He tells a story of perseverance, needed in not only discovering the name of his disability (focal dystonia) but also in recovering from it. Update: Currently performing and teaching master classes, he has recently written a book Playing with Ease: A Healthy Approach to Guitar Technique.
"Murder Will Out" Attorney Bill Devereaux '75 tells the harrowing story of helping Todd Barry, a man he had met some years earlier, navigate the legal system as he confessed to the 1989 murder of 29-year-old Victoria Cushman. A murder that had already been tried and for which a man—a Rhode Island policeman, no less—had been convicted and jailed. People had staked their careers on that conviction. What had gone wrong? Attorney Kevin Bristow '79, a former state prosecutor was appointed to evaluate how the city's police department had handled this case.
"ESPN's Rob King '84 Knows Everyone's Favorite Teams" Listening to him was a master's lesson in flexibility and re-envisioning journalism. "There's no longer a mass audience to capture,' he says. "Instead, it's a massive audience of individuals…."
"Help Needed" Visits with those working on the front lines of poverty relief in New York City—including a tour with workers who check on those in homeless encampments—was a reset for all I'd thought I known on the subject. "An interaction always starts with a name," Muzzy Rosenblatt '87 told me. "And we don't assume anything."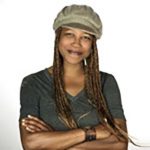 "Starbucks Selects Single by Rhodes '90" A musician since graduation, J.R. Rhodes '90, tells the story of the happy accident that led to the high-profile placement of a song, "Your Pillow," from her album, I Am. Her conclusion: "I believe that sharing our stories is one of our greatest contributions to the world. It's how we create community; it's how we come to greater understanding and—hopefully—greater compassion."
I can only echo J.R.'s words. Thank you to everyone who was generous enough to share their story with the Wesleyan magazine. You bring us into community; you lift us into compassion.
And—a bonus extra:
In a 2014 magazine article that wasn't archived on our website, Sasha Chanoff '94 told us about an impossible decision he faced early in his career when leading a refugee rescue mission: Should he take a gamble, risking everyone's life but potentially saving more people—or should he maintain protocol, rescuing some but dooming others? Wesleyan magazine thought it was a great story—and so did The Moth, who asked him to tell his tale at one of their events in New York City and recorded it. Chanoff, now the co-founder and executive director of RefugePoint, an organization that seeks out those refugees most at risk and locates resettlement opportunities for them, spoke to a jam-packed—but utterly silent—spellbound auditorium. https://themoth.org/storytellers/sasha-chanoff